NYM wrestling season ends at state tournament
Sports | Published on March 8, 2022 at 4:36pm GMT+0000 | Author: Chad Koenen
0
Four Eagles compete with best in the state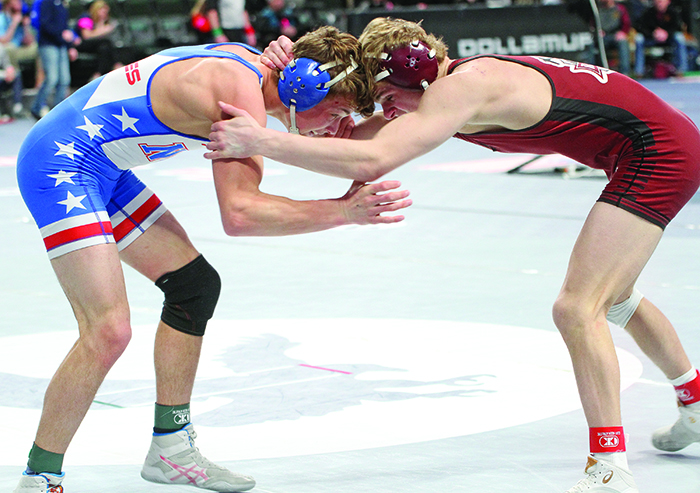 By Chad Koenen
Publisher
A point here and a point there, that was the difference between several New York Mills wrestlers advancing to the quarterfinals and having their season come to an end last week.
Dane Niemi fell in the closing seconds of his opening round match by an 8-7 decision and Bren Salo lost by fall in overtime to end their season. Simon Snyder dropped a close 8-4 decision and Sawyer Wedde fell to the top seeded wrestler in the tournament by fall in the opening round of the tournament.
Snyder dropped his opening round match at 145 lbs. to John Paul Fitzpatrick of Crosby-Ironton. Fitzpatrick took a 5-0 lead at the end of the first period after securing a take down and a 3 point near fall. Snyder earned a pair of take downs in the second and third period, but eventually fell by a score of 8-4. Fitzpatrick lost in the next round to end Snyder's season with a record of 38-7 overall.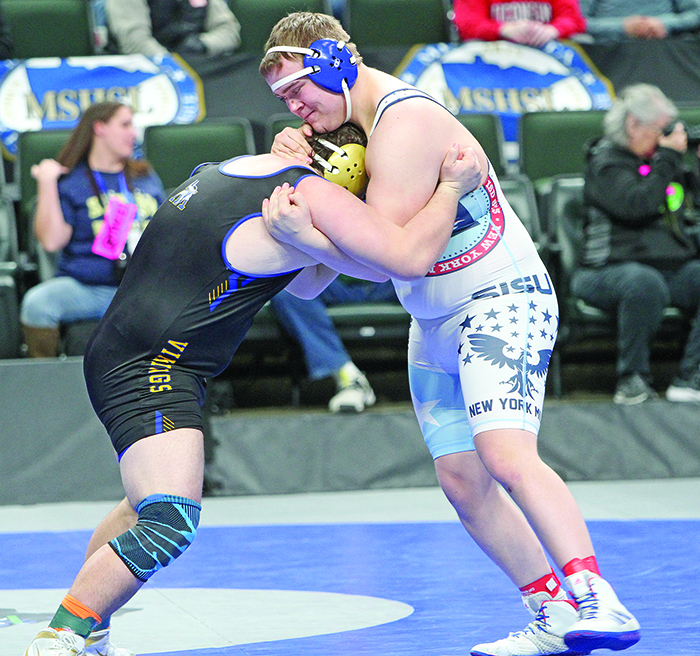 At 152 lbs., Dane Niemi and Jacob Blair ended the first period tied at 4-4 after Niemi secured a reversal and 2-point near fall. In the second period, Niemi got an early escape to take 5-4 lead heading into the final period. Blair started down in the third period and earned a reversal to take a 6-5 lead, before Niemi secured a reversal of his own with just 38 seconds remaining to retake the lead by a score of 7-6. Unfortunately, Blair got a reversal in the waning seconds of the match to secure an 8-7 win. Blair fell to the eventual state champion, Gavin Gust of Dover-Eyota in the next round to end Niemi's senior season with a record of 36-10.
After two periods of scoreless wrestling, Bren Salo earned an escape at the 1:31 mark of the third period to take a 1-0 lead. The NY Mills senior wrestler was called for stalling twice in the final 37 seconds of the match with the final one occurring with just 6 seconds left to give Vander Mathiowetz of Red Rock Central his first point of the match and tie the bout with just seconds remaining. In overtime, Mathiowetz secured a pin to end Salo's state tournament. Mathiowetz went on to lose to Caleb Vacura of BGMR in the quarterfinals.
Salo's senior season ended with a record of 31-5 overall.
At heavyweight, Sawyer Wedde fell to Jackson Esping of Minneota by a fall at the 1:08 mark of his match. Esping, who came into the state tournament with an undefeated record, fell to the eventual runner up in Makota Misgen of New Richland-Hartland-Ellendale-Geneva to end Wedde's senior season with a record of 14-18.
145- Champ. Round 1 – John Paul Fitzpatrick (Crosby-Ironton) 44-7 won by decision over Simon Snyder (New York Mills) 38-7 (Dec 8-4)
152- Champ. Round 1 – Jacob Blair (Minnewaska Area) 31-8 won by decision over Dane Niemi (New York Mills) 36-10 (Dec 8-7)
182- Champ. Round 1 – Vander Mathiowetz (Red Rock Central) 37-8 won by fall over Bren Salo (New York Mills) 31-5 (Fall 6:24)
285- Champ. Round 1 – Jackson Esping (Minneota) 12-2 won by fall over Sawyer Wedde (New York Mills) 14-18 (Fall 1:06)