Bauck joins brothers with 1,000 points
Sports | Published on March 15, 2022 at 4:27pm GMT+0000 | Author: Chad Koenen
0
NYM junior eclipses mark against Ada-Borup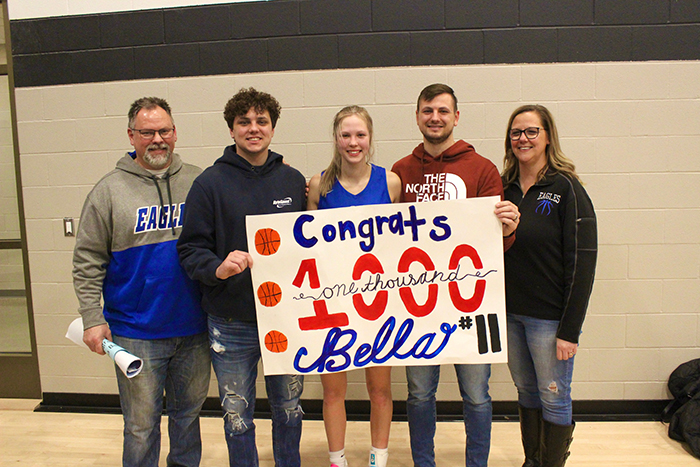 By Chad Koenen
Publisher
Bella Bauck's 13th and final point against Ada-Borup West on March 5 wasn't just any old point in a sub section playoff game. The point carried a special significance as she joined her older brothers in NY Mills' history of scoring 1,000 career points. After watching her brothers play for NY Mills over the years, the younger Bauck has been a staple in the line up for the Eagles since she was in eighth grade.
In fact, the daughter of Mike and Teri Bauck, couldn't help but smile last week as she talked about an accomplishment that hadn't been achieved for the girls basketball team since Rhiana Roberts scored her 1,000th career point during the 2017-18 season. Roberts would wind up scoring 1,364 points in her career
On the boys side Jonah Johnson scored his 1,000th career point earlier this season and Tate Olson broke the boys school scoring record this year as well.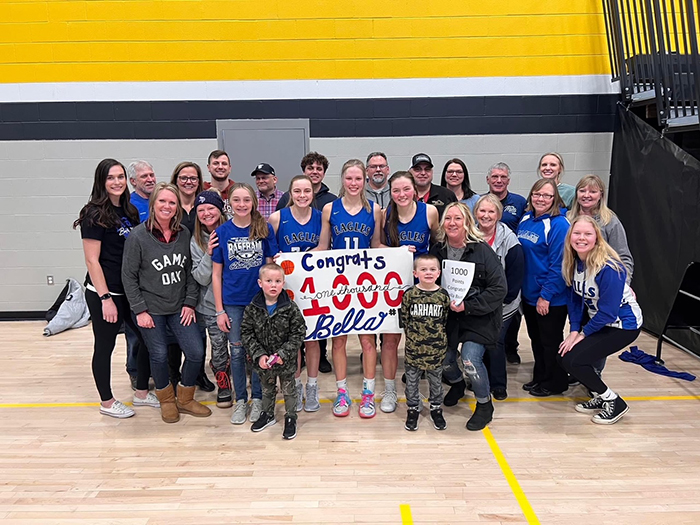 Bauck said she found out about the milestone prior to the start of the Eagles' sub section opener against Lake Park-Audubon on March 3. Needing 23 points to join her brothers in the elusive thousand point club, Bauck came up just short as she scored 10 points in the Eagles' 55-38 win over the Raiders.
Just two nights later the NY Mills junior used a strong second half to score 13 points in the final 18 minutes of the game to help the Eagles get a 49-29 win over Ada-Borup West. As the ball went through the rim at Perham High School, the thousand point signs were broke out to honor NY Mills' first girl to score 1,000 career points in four years.
"It was definitely a relief, but exciting because a lot of my family was there to support me," said Bauck.
Both of her older brothers, Zach and Brady, scored 1,000 points for the boys basketball team while attending NY Mills School. They were both in attendance on March 5, as well dozens of cousins, aunts and uncles and other family members.
This is Bauck's fourth year on varsity for the Eagles as she has been a mainstay in the lineup since her eighth grade season. While scoring 1,000 points was a personal goal, the NY Mills junior was just as happy to help the team advance to last week's sub section championship game against Underwood.
NY Mills girls basketball coach Bryan Dunrud said scoring 1,000 points is a great accomplishment for an individual to accomplish and was proud of the contributions Bauck has made on and off the court.
"Bella has put in an extraordinary amount of time not only during the season, but individually on her own, attending camps, and playing basketball over the summer months for AAU and our school team," said Dunrud. "Her commitment goes above and beyond what most players are willing to do and this has played a huge role in her getting to the 1,000 point threshold during her junior season."
While scoring 1,000 points may be an individual accomplishment, Dunrud said the milestone is important to the team as well as it shows how well the Eagles play together as a team.
"This is a huge accomplishment for our team as well. This shows that others around her are playing unselfishly and are willing to share the ball and move the ball to the open person," he said. "Bella has been a huge part of our success and we look forward to watching her expand on this accomplishment next season while also watching our team continue to improve going forward."
NY Mills had its season come to an end last week as the Eagles finished as the sub section runner up. The team fell to Underwood by a score of 55-36, but finished the season with a record of 17-10 overall.