Berg retires after 27 years with OT County
News | Published on March 15, 2022 at 3:54pm GMT+0000 | Author: Chad Koenen
0
Longtime employee has been a staple at recycling facility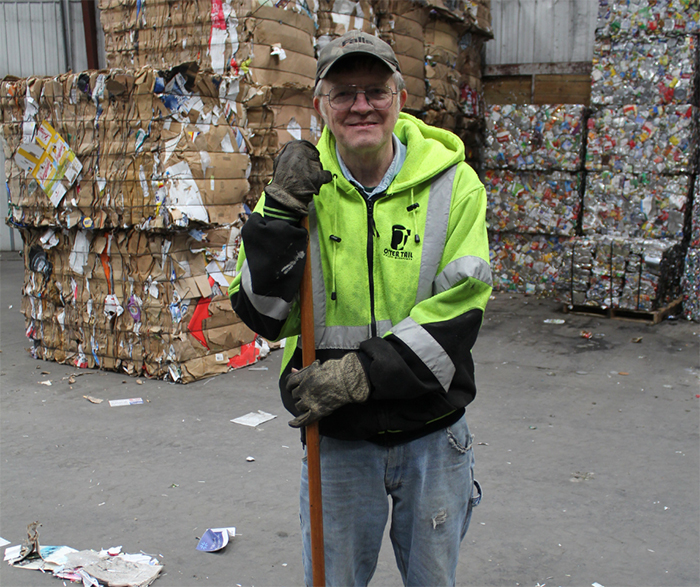 David Berg began his career with Otter Tail County as one of the first employees in the newly founded recycling center. Since then, he has seen many changes in the recycling industry as well as at the County Recycling Center.
As a life-long resident of the county, he plans to continue to live and work on his family farmstead.
"When I first started, we were a lot smaller, and we were sorting (recycling) off the floor and off tables. And when we moved into the newer part, it became more mechanized," said Berg. "Of course, the volume has increased over that time and balers have improved and become more efficient."
The recycling collected in Otter Tail County is processed at the recycling center where Berg has worked since its start in 1994. Until recently, all recycling in Otter Tail County was source separated, and in 2017 the cities of Fergus Falls and Perham transitioned to single sort recycling where both cities saw increases in the tonnage of materials.
"We've been so fortunate to have had him in our department. His calm and content nature is valued and admired by so many. His skill, knowledge, and loyalty will be missed," said Rena Simon, Recycling Manger. "He has every reason to be proud of his work for the past 27 years, and it will be difficult for him and all of his coworkers as he walks away on his last day of work."
When asked what advice Berg would give to someone who may consider work like his he replied, "I guess they'd have to have knowledge of machinery, know how to handle a skidsteer, forklift, and balers… and how much weight they're loading into semis, so they're not overloaded."
Berg added "working in the Solid Waste Department has been more than a job and I will miss it."