Three generations take to the lanes
News | Published on March 15, 2022 at 4:33pm GMT+0000 | Author: chadkoenen
0
Geisers enjoy opportunity to bowl on same team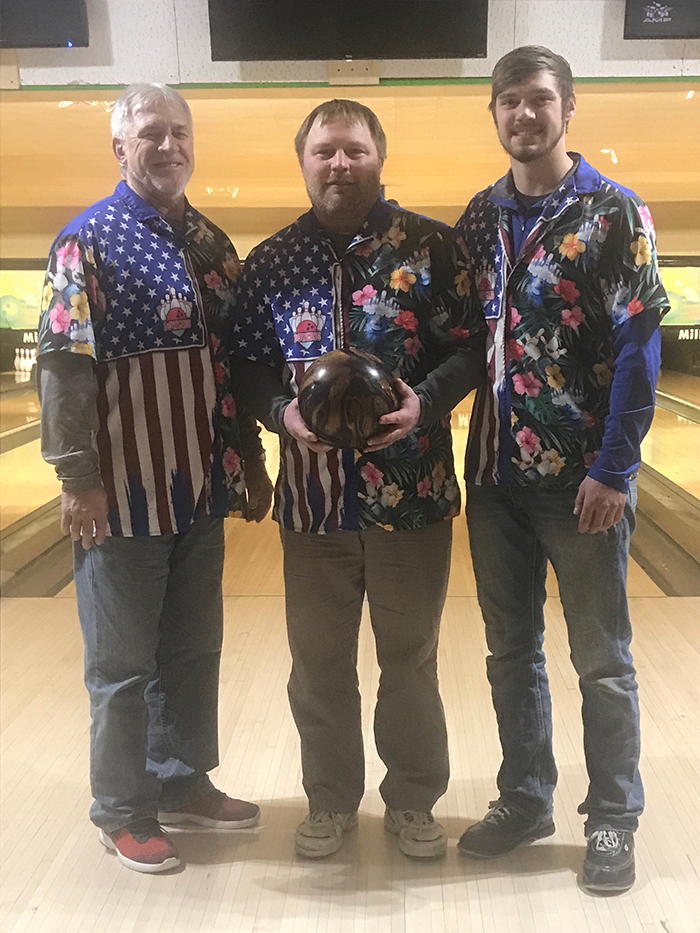 By Tucker Henderson
Reporter
For over 40 years, Terry Geiser has picked up his bowling ball and worked on his skills at Mills Lanes. 
Originally from Bluffton, Geiser would go with some friends to New York Mills and bowl a few frames. This was during the time that Mel and Sharon Rautio owned the bowling alley and only had six lanes to choose from. Over the years, Geiser has steadily increased in skill and added some bowling-buddies to his weekly league.
Starting out around 1977 on Wednesday nights, Geiser has bowled during four ownerships at Mills Lanes: Mel and Sharon Rautio, Mark Flemming, Owen and Dolly Tumberg, and most recently, Chad Rudolph and Tiffany Ruther, as well as for multiple teams. Today, he bowls on Monday night league, and instead of the Bluffton baseball team he started with, he bowls, donning a floral and patriotic uniform, for Designs by Tes.
His teammates over the years have also changed. Friends from Bluffton first made up his bowling teams, but after 40 plus years, things have changed considerably. Now, Geiser bowls with his sons, Matt and Cody, and his grandson Gabe, making his team somewhat of a family affair.
Dolly Tumberg said that in all of her 22 years of owning Mills Lanes, a three-generation bowling team had never occured on any of the weekly leagues until the Geiser group.
Geiser finds this unique team to be something special and said that it is a privilege to bowl with his family.
"Not many people are able to do that," Geiser said. "We have a great time."
In a world of full of other commitments, taking a few hours a week to spend with one's family can be a difficult task. Through Matt's job at Lunds and Gabe's new position at the fire department, sometimes finding free-time isn't as easy as it sounds.
Luckily, Monday nights work out with everyone's schedule and the group gets to spend some quality time together, cheering each other on as they compete with teams from Mills Lanes, Lunds, and Lumber Depot. Geiser understands the value of this type of family-time.
"We always have fun, that's the important thing," said Geiser.