Broadway Market fondly recalled
News | Published on March 29, 2022 at 3:53pm GMT+0000 | Author: Chad Koenen
0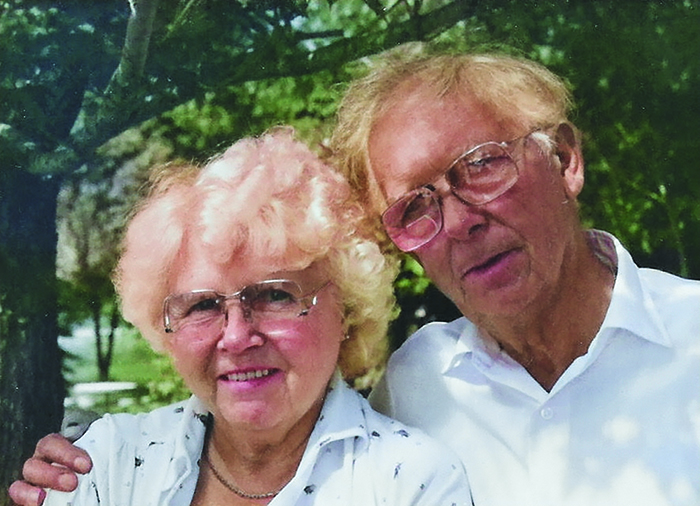 By Tom Hintgen
Otter Tail County Correspondent
Our county, following World War II from the late 1940s to the 1970s, included many city neighborhood and rural grocery stores.
One of those stores is fondly recalled by Diann Hennig, Fergus Falls High School class of 1960, whose parents ran Broadway Market on the 800 block of North Broadway.
"My first recollections of Broadway Market go back to when my parents, Vern and Hilda Hennig, bought the store about 1948."

Diann Hennig
She was in the first grade at McKinley School and her older sister, Sidonna (now Sidonna Bradow), was in third grade.
"My parents moved back to Fergus after having spent several years in the 1930s and 1940s in Detroit, Michigan, where my dad was a milkman," she said. "On his first route he used a horse-drawn cart."
Vern and Hilda had both grown up in and near Fergus Falls, and they returned after the war to purchase the store on North Broadway.
"My grandma and grandpa, Bill and Gustie Hennig, had purchased a house on Broadway, and we lived there until my parents bought the store," Diann recalls.
"Dad and mom began expanding things soon after they purchased the store," she said. "For a number of years, Broadway Market was also our home. Dad and mom put an addition onto the store building and we lived there for several years."
Work and home life were totally knitted together, and when Diann and her sister were old enough, they worked in the store.
"When our parents did take a vacation, Sidonna and I would run the store with help from Hazel Evenson, a neighbor across the street. Living in the store had its advantages. Delicious aroma from our home-cooked meals probably helped stimulate sales."

Diann Hennig
In 1955 Vern and Hilda built a house across the street from the store, and then expanded Broadway Market into the area in which they had been living. The exception was the bathroom and kitchen.
Vern, although having little education, was blessed with a real knack for sales. Hilda did all of the bookkeeping.
Diann remembers her father as a funny and gregarious guy who loved to argue, often just for the sake of arguing.
"Some of our customers loved to come in just to talk and argue with him," recalls Diann.
She and her sister, Sidonna, were expected to work in the store. They put in lots of hours until they graduated from high school and began their own lives.
"The store was a way of life," Diann says. "We were open from 7 a.m. to 10 p.m. seven days a week and were kind of a mini supermarket. We were closed from 1 to 3 p.m. on Christmas Day so we could have Christmas dinner. That was literally our only holiday."
The Broadway Market phone number was 6666, and then later Regent 6-6666.
"At one point, Phillips 66 wanted to buy our number but my dad refused. My sister and I stayed off the phone because we took phone orders and made home deliveries long before the era of real supermarkets."

Diann Hennig
Diann and Sidonna made some of the deliveries.
"My dad made me start driving when I was 15 so I could deliver groceries or beer or whatever a customer needed," Diann said. "I drove a great '42 Chevy."
Her father would buy sides of beef and do the butchering right in the kitchen. Vern made his own sausage and bought chickens and eggs from local farmers. He sliced lunch meats.
Vern and Hilda sold Broadway Market in the early 1960s. Vern worked briefly as a salesman at the Montgomery Ward's store on East Lincoln in Fergus Falls. He and Hilda then moved to the Twin Cities where Vern worked at SuperValu in Richfield.
Diann, who currently lives in Minnetonka near the Twin Cities, worked over the years doing jobs ranging from secretarial work to selling apples to being a rural mail carrier to teaching water aerobics.
"I never had anyone harder to work for than my dad. He and the Broadway Market really gave me a work ethic that has stuck with me for my entire life."

Diann Hennig
Other recollections of Broadway Market 
"We didn't have air conditioning, and in the summer we sold lots of ice cream in cones and in bulk," said Diann Hennig, daughter of Broadway Market owners Vern and Hilda Hennig. "A single scoop was a nickel and a double was a dime."
She said Broadway Market had a lot of candy, all under a glass case.
"Occasionally, kids would try to steal and I would sometimes have to chase them down. We were very popular on Halloween because dad would give out 5-cent candy bars."
Broadway Market allowed people to charge for their groceries.
"But sometimes they wouldn't pay," Diann recalls. "As a last resort, my grandma would do the collecting. But when people paid their bills, my dad would toss in a pint of ice cream. "
It was sometimes Diann's job to take money to the bank.
"I would just get on my bicycle with a big wad of cash and head for the bank," she said.