Brunswick to expand to Willmar location
News | Published on April 5, 2022 at 5:20pm GMT+0000 | Author: Chad Koenen
0
By Chad Koenen
Publisher
Demand for new boats and pontoons remain strong, even as labor and supply shortages have created a number of challenges for Brunswick Corporation.
In order to meet the increased need in the boating industry and shortages in the labor force in the area, Lenn Scholz, president of Lund Boats, announced some changes for the company in an online meeting with the New York Mills Civic and Commerce organization on Tuesday afternoon. As part of the changes, Brunswick will lease a building in Willmar, Minn., to spread out its Lund Boat manufacturing operations.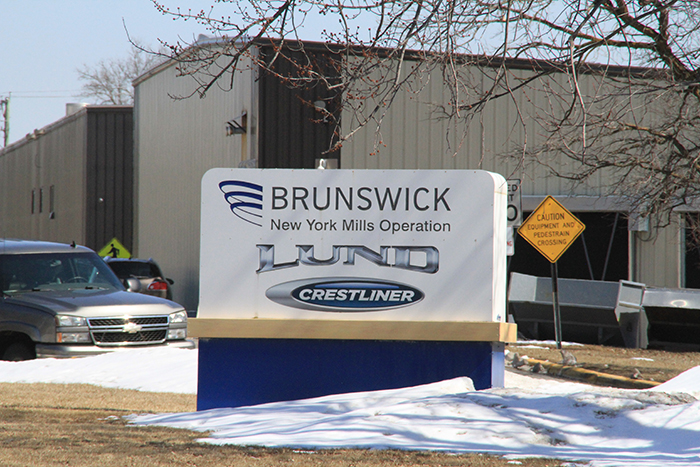 The new location in Willmar, Minn., will hold about 35 employees who will be an extension of the upholstery operations in NY Mills. All materials, such as wood, aluminum, carpet and vinyl will be cut in NY Mills, before being shipped to Willmar for employees there to work on. The materials will then be shipped back to NY Mills where it will be assembled and the final boat constructed.
No Brunswick workers in NY Mills will lose their jobs as part of the new facility in Willmar. Scholz said the change is to create a better work-life balance for employees and reduce clocked overtime for staff members. Many employees have been working overtime since the demand for boats has risen. In addition to employee shortages in the area, other factors like COVID-19 and supply shortages has led Brunswick to look outside the box in trying to find solutions to meet rising demand.
The transition will take several months to complete, and according to Scholz, the Willmar location will continue to be part of the operations at Brunswick/Lunds for the foreseeable future—until something changes in the market, or the labor market opens up more in NY Mills.