Kunza joins NYM staff as student teacher
News | Published on April 5, 2022 at 4:47pm GMT+0000 | Author: Chad Koenen
0
Frazee High School alum is enjoying her time in the elementary classroom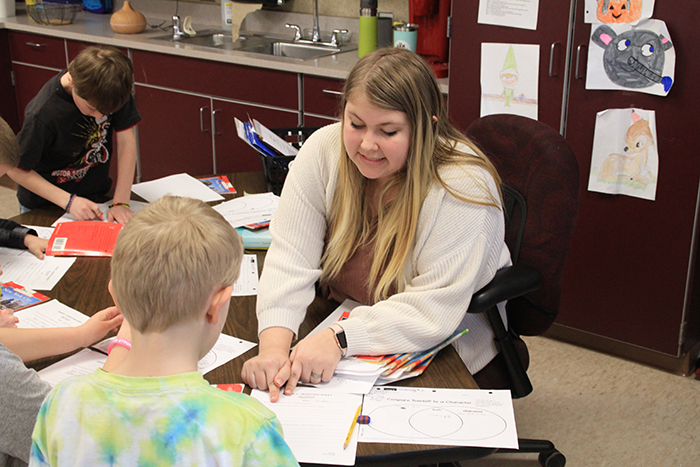 Tucker Henderson
Reporter
Smiling faces and joyful learners are the reason Justice Kunza decided to pursue teaching. As she starts her second month as a student teacher in the New York Mills Elementary School, Kunza is excited for the future.
"I'm looking forward to seeing how the end of the year feels with the students and growing some more as a teacher," said Kunza explained. "When I started, I was super nervous. I have grown a lot in the past four weeks and I am more confident."
The 2016 Frazee High School graduate began her college education at the Minnesota State University of Moorhead. Since then, she has moved to Perham and began working towards her degree in elementary education online through Walden University of Minneapolis, Minn..
After high school, Kunza began to pursue her education for teaching, but was unsure of her path at the time.
"I am a person that doubts myself, so I decided to try something else and I worked at a childcare center and I realized my passion was working with kids. I just absolutely love kids, so that's why I came back (to teaching). My husband's family is full of teachers and they have really inspired me to become a teacher." 

Justice Kunza on becoming a teacher
Kunza has not regretted one moment on her pathway to becoming a teacher. Working with students brings her joy on a daily basis.
"I love the creativity of the kids. They have so much life and so many stories and are just fun to be around," Kunza said. "Kids are great. They come up with some creative ideas and I just love working with them."
Working in childcare settings in the past, Kunza knows what to expect when it comes to behavior and appreciates the structure that the school provides.
"They know what they're doing and what they need to focus on," said Kunza. "It's been a change from the two different settings."
When Kunza was offered the choice of three schools to student teach in, she chose NY Mills without hesitation.
"I got to choose three different schools, but (New York Mills) was super close and it's a small community," said Kunza. "That's why New York Mills was my top choice."
She also said that being assigned to second grade teacher, Teri Bauck, is a perfect pairing.
"(Bauck) has a lot of the same styles as I would use in my own classroom. She has been such a great mentor," said Kunza. "I have learned so much from her already and it's only been four weeks."
She also noted that putting the information from her textbook to work in a classroom is a difficult and intimidating task.
"Justice has been a great addition to my second grade classroom," said second grade teacher, Teri Bauck. "From day one, she has easily made connections with both students and staff. She is working her way up to taking over teaching full time with my guidance." 

Teri Bauck, NYM second grade teacher
Bauck went on to say that "Having a student teacher requires the classroom teacher to supervisor, model, guide and assist with the development of their teaching. Learning classroom management and how to differentiate lessons for all learner takes a lot of time and effort."
"I have seen Justice really excel in this area over the past month," said Bauck noted. "There is also opportunities for for me to learn from Justice as she brings a fresh new perspective from college."
After Kunza's graduation in May, she plans on teaching kindergarten through second grade at a school in the area.
"I plan on trying to stay around the area—I love the community around here—and I would love to teach the younger grades," she said.
Kunza stressed her appreciation for the community and their welcoming attitude.
"All the staff and all the students are so friendly and kind and they've been so welcoming," Kunza said. "The school community has welcomed me with open arms and they are so willing to help me."
Having graduated from Frazee High School, setting down roots in Perham, and now student teaching in NY Mills, Kunza is literally bridging the gap between these small communities in the Lakes Country of Minnesota.
"I love small communities," said Kunza, "and I think that's where I want to stay."