New police officer joins NYM Police Department
News | Published on April 12, 2022 at 5:21pm GMT+0000 | Author: Chad Koenen
0
Schaefer is looking forward to being a part of the NYM area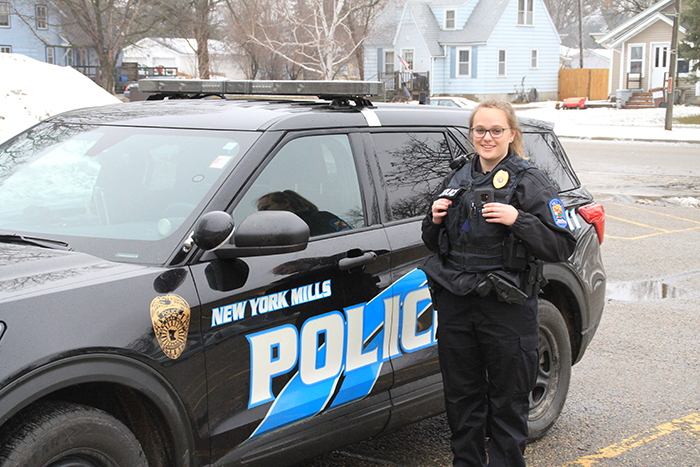 By Tucker Henderson
Reporter
If you see a New York Mills Police Department vehicle patrolling the area, keeping our streets safe, you might be in the presence of our town's newest police officer.
Faith Schaefer joined the department in March on a full-time basis and has been training with fellow officer, Tyler Schwartz.
"I live in Deer Creek, so it's close by and I'm somewhat familiar with the area. I thought it would be a good place to start, since it's a small town." 

Faith Schaefer
Schaefer grew up in Bertha, but later moved to Deer Creek and has gotten to know some of the highlights of the area through her love of the outdoors.
"I have a little dachshund at home, so I'm always playing with him and taking him out for walks," Schaefer noted. "I go hiking with him."
She also mentioned that she loves the outdoors in general, including hunting and fishing on the many lakes Minnesota has to offer in the summertime.
Schaefer said that after her training with Schwartz, she will be able to work on her own by the end of April. She is looking forward to getting to know her community and meeting new people in her service as a police officer.
"I like meeting new people and hearing about their stories," Schaefer said. "A lot of people have different hobbies and I like hearing about what makes them happy, it's interesting."
Her own hobbies keep her active in her spare time. Alongside her outdoor adventures with her pup at home, Schaefer said that she spends a lot of time in the gym. It is that gym time that keeps her in top-form as she begins her time as a NY Mills police officer.
"I became a police officer because I wanted to be able to work in a community and be a positive influence on people," Schaefer noted. She added that her line of work always adds something new and different to her life.
"I'm glad to be here and I look forward to working with everyone here," said Schaefer.