Baune finishes in third place at BSU indoor meet
Sports | Published on April 19, 2022 at 3:51pm GMT+0000 | Author: Chad Koenen
0
Eagles compete at large indoor track meet at BSU
By Chad Koenen
Publisher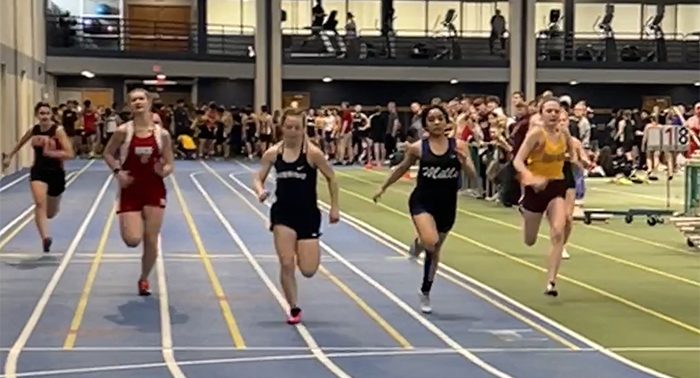 The New York Mills track team headed back indoors last week as the Eagles competed at an indoor meet at Bemidji State University.
The Eagles were led by Alayna Baune who took third place in the triple jump with a jump of 31'9". A freshman, Baune finished just ahead of senior Sydnie Wgeishofski of Pequot Lakes who finished with a jump of 31'6" and behind just Jaden Hackel of Perham and Isabelle Larson of Wadena-Deer Creek. There were 40 people who competed in the event.
In the 800-meter run, freshman Jada Goeson placed fourth as she finished with a time of 2:36.30. She also placed eighth in the 400-meter run with a time of 1:07.23.
In the 60-meter dash, Katherin Garcia finished just .01 seconds away from making the finals as she finished in 15th place in the preliminaries with a time of 8.98 seconds. Payton Lausten and Ashley Kassa tied for 17th place with a time of 9.07.
In the high jump Irene Mursu took 12th place with a jump of 4'4", while Goeson took 16th place with a jump of 4'2".
In the long jump Bella Bauck took 15th place with a jump of 14'3".
As a team the Eagles placed 10th overall in the 14 team meet with 14 total points. Perham won the meet with Pequot Lakes taking second place.
The Eagles are scheduled to compete in Battle Lake on Thursday, weather permitting, in their lone action of the week.
Girls 60 Meter Dash 15. Katherin Garcia 8.98, 18. Payton Lausen 9.07, 19. Ashley Kassa 9.07, 38. Lydia Nicholas 9.48, 56. Zaidie Trigerous 10.24
Boys 60 Meter Dash 59. Creed Mursu 8.87
Girls 400 Meter Dash 8. Jada Goeson 1:07.03, 19. Brielle Malone 1:13.52, 38. Jane Gudmundson 1:24.47, Zaidie Trigerous 1:26.91
Boys 400 Meter Dash 46. Elijah Geiser 1:05.13
Girls 1600 Meter Run 23. Brielle Malone 6:52.30
Girls 800 Meter Run 18. Macy Koljonen 2:55.54, 30. Dixie Dykhoff 3:16.98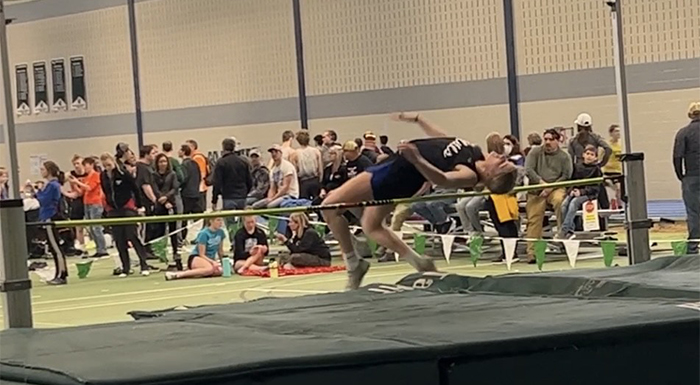 Boys 800 Meter Run 21. Creed Mursu 2:32.65, 32. Elijah Geiser 2:39.40
Girls 200 Meter Dash 16. Katherin Garcia 31.03, 22. Ashley Kassa 31.33, Lydia Nicholas 31.34, 27. Payton Lausten 31.44, 58. Jane Gudmundson 35.26
Boys 200 Meter Dash 67. Justin Kassa 31.56
Girls High Jump 12. Irene Mursu 4-04.00, 16. Jada Goeson 4-02.00
Boys High Jump Elijah Geiser
Girls Long Jump 15. Bella Bauck 14-03.00, 17. Alayna Baune 14-00.00 43. Maya Radniecki 12-01.00, 48. Zaidie Trigerous 11-03.00, 51. Brielle Malone 10-06.00
Girls Triple Jump 3. Alayna Baune 31-09.00, Bella Bauck
Girls Shot Put 44. Emily DeYounge 22-01.25, 51. Josi Minderman 20-08.25
Boys Shot Put 45. Austin Geiser 20-09.00, 46. Creed Mursu 20-04.50