Gudmundson win section speech meet
Sports | Published on April 19, 2022 at 5:07pm GMT+0000 | Author: Chad Koenen
0
Lecoustre to also compete at state meet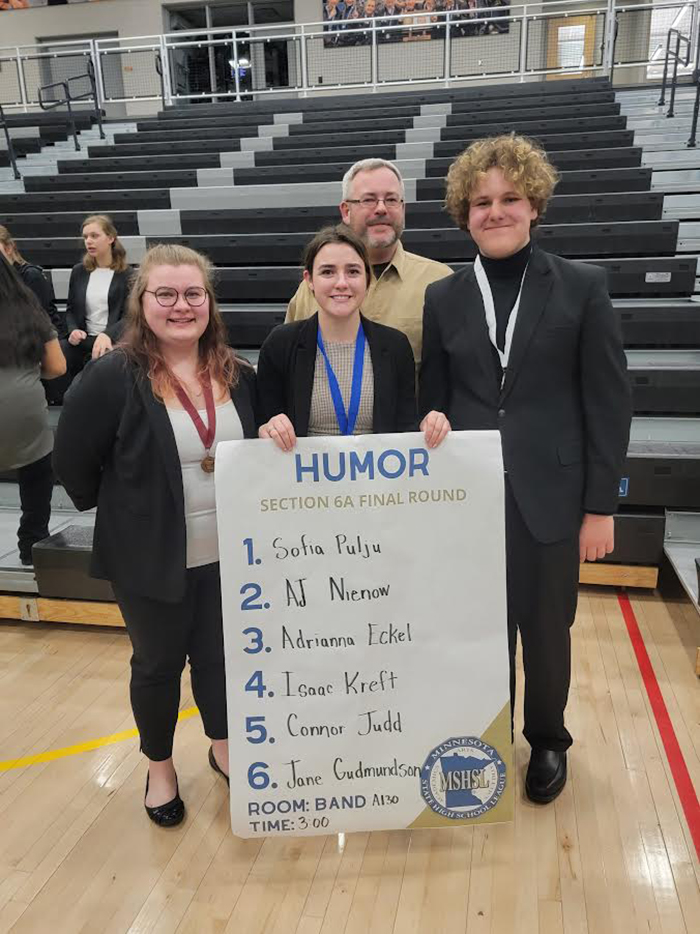 By Tucker Henderson
Reporter
Two members of the New York Mills High School speech team have advanced to the State speech meet at Eastview High School in Apple Valley on Saturday, April 23.
Senior, Jane Gudmundson, placed first in humerous interpretation during the Section 6A speech meet in Perham on Saturday, April 9.
"My main goal was to make it to state," said Gudmundson. "That was my main mark that I really wanted to hit my senior year, so anything that happens after this is just icing on the cake."
As Gudmundson continues on to Apple Valley, she will be competing in the humerous interpretation category. She has competed in a variety of categories during her years in speech.
"There was a senior (during) my seventh grade year, Leah Roberts, that really pushed me into speech. I always acted, I did community theater in Fergus Falls, I did one-act, I've always been a theater person I guess. Leah Roberts said 'you should join speech,' so I joined speech." 

Jane Gudmundson on joining speech
Gudmundson said that telling peoples' stories are a highlight of her speeches.
"In the past I've done actors and actresses and some of the stories that they have, a lot of people don't know about," she said.
Connections are another highlight of her involvement in speech since seventh grade.
"If it weren't for speech, I would not know half of my friends right now," said Gudmundson. "You get to meet a lot of new people."
The team, which includes three members, all share in the accomplishment of potentially competing at state.
Jessica Lenz placed sixth in poetry reading at the Section 6A meet, which qualified her as an alternate at the state meet. Being an alternate means that if a competitor is unable to make it to state due, an alternate member is chosen to compete in their stead.
Though competition is not guaranteed as an alternate, Lenz was an important addition to the team as they completed team building on Friday and as moral support on Saturday.
Te'o Lecoustre also placed in the Section 6A meet. His performance in prose reading placed third and qualified him to compete on Saturday.
Coach Leif Ronning said that he was "more proud than you can imagine" of his speech students. He said that going to state is a great accomplishment and the fact that his whole team qualified is an even greater honor.
"It's a breath of fresh air because they get to go to state," said Ronning. "Last year state was held virtually in the school library."
Ronning mentioned that the team would be taking Friday to do some team building, which will include some fun sightseeing such as a trip to the Mall of America.
"We're excited," said coach Ronning.