OTC seeks input on county redistricting
News | Published on April 19, 2022 at 4:06pm GMT+0000 | Author: Chad Koenen
0
Four proposals being discussed by commissioners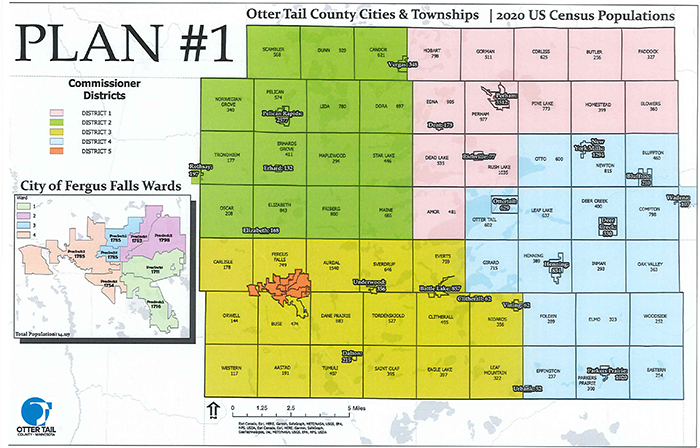 By Chad Koenen
Publisher
Do you want to have a voice in how the Otter Tail County Commissioner Districts are shaped for the next 10 years? Well, if that's the case, you are in a bit of luck.
During its regularly scheduled meeting last week, the New York Mills City Council heard from Otter Tail County District 1 Commissioner Dan Bucholz about four different plans being discussed by the county commissioners. The plans would essentially reshape the county's five districts to stay in line with state guidelines.
It is also likely all five commissioners will need to run for reelection this November under the new district's, because more than 5 percent of the voters will have changed districts during the reorganization. Otter Tail County did not change its district lines 10 years ago when the last census was taken, because the current map at the time was within the 10 percent margin of residents per district. However, that isn't the case this time around.
With a county population of just over 60,000 today, the goal was to have the districts be as close to the average size of 12,000 as possible.
Much of that growth has taken place in District 1, currently served by Bucholz. The first-term county commissioner said District 1 has grown by about 11.2 percent over the past 10 years. The district currently includes the cities of Perham and New York Mills, as well as much of the central and north east portion of Otter Tail County.
District 3, which is represented by Commissioner Kurt Mortenson in the southwest part of the county, now has too few of residents according to state statues.
Otter Tail County Commissioners are currently discussing four different plans for redistricting each of the five districts. There are four plans being discussed and a plan could be approved during a public hearing on Tuesday, April 26 at 10 a.m. in Fergus Falls.