Otter Tail County housing summit activates partners
News | Published on April 19, 2022 at 4:10pm GMT+0000 | Author: Chad Koenen
0
Over 100 people attend housing event in Ottertail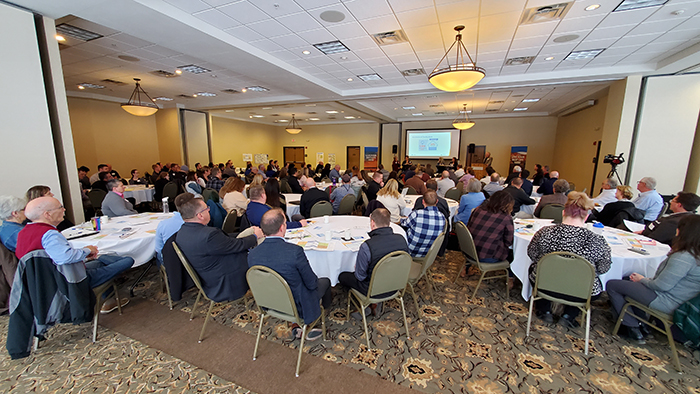 Otter Tail County hosted a countywide housing summit on Thursday, April 7. The summit brought more than 100 housing partners together at Thumper Pond Resort to learn about housing successes, engage with each other, and activate continued housing growth for Otter Tail County.
The housing summit included presentations from employers, builders, city representatives, the Otter Tail County Housing and Redevelopment Authority (HRA), and the Community Development Agency (CDA). Guest speakers from Minnesota Housing Finance Agency, the Center for Rural Policy and Development, and Ehlers joined presentations about a variety of financial resources and partnership opportunities.
Otter Tail County's new Big Build housing finance programs were also introduced. These programs align with the county's Big Build Initiative to build, rehabilitate, or preserve 5,000 housing units by 2025. The Big Build programs will make $2.5 million available to housing partners to create new homes and keep people in affordable, stable homes.
The funding for these programs is made available by Otter Tail County's allocation from the federal American Rescue Plan Act and the Local Housing Trust Fund that was established in 2021.
"The Big Build housing finance programs will provide funding for public infrastructure needs and other financial gaps for new construction of owner-occupied and rental housing units," said Otter Tail County Community Development Director Amy Baldwin.
The programs were developed in response to many conversations with cities, builders, and developers about where they needed further support to make housing projects move forward.
"The programs offer great opportunities for our housing partners to have the financial tools to build and rehabilitate homes," said County Commissioner and HRA Board Chair, Wayne Johnson. "The county board and staff have been very intentional about creating the programs to be investments into our communities that will meet the housing needs of our workforce."