Connecting with veterans over lunch
News | Published on April 26, 2022 at 4:50pm GMT+0000 | Author: Chad Koenen
0
Local veteran unveils new Meals with veterans program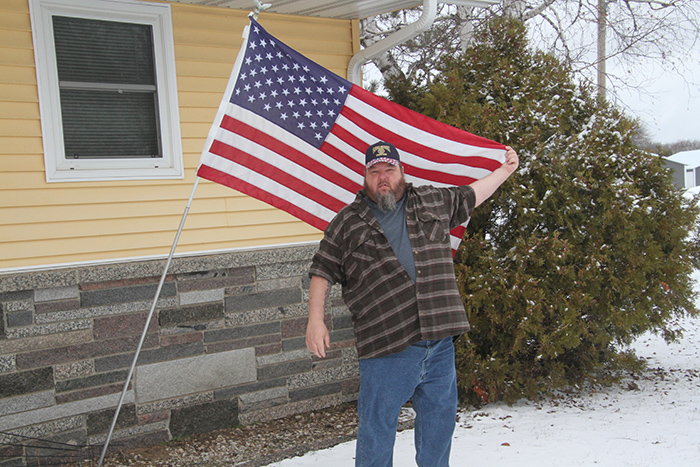 By Chad Koenen
Publisher
Food has a unique way of bringing people together and opening doors that may otherwise be shut. A Deer Creek man is hoping to utilize his passion for cooking, as a way to open the doors to veterans throughout the region. 
Brett Swaser has recently unveiled his new program "Cooking With a Veteran" in which he prepares and cooks a meal for a veteran or spouse of a veteran. He takes care of everything right down to purchasing the food. As they break bread over the dinner table there is also plenty of time for conversation about the military, their lives and things as simple as the weather.
"If they want something fancy I can do that. If they want down home stick to your gut and a hearty meal (that can be done as well)," said Swaser. "We sit down, we have a meal and talk for a couple of hours."
After working for the United States Postal Service for 20 years, the retired Army veteran moved to Deer Creek a few years ago. Since then, he has gotten involved in the community through the Lions Club and American Legion. It was the latter that has helped to provide the funding for the new Cooking With a Veteran program as the Deer Creek American Legion has agreed to pay for the food.
In addition to food, Swaser also purchases storage containers to keep the leftovers and provide a second meal for the veteran.
Swaser said the idea behind the program was to honor the sacrifices made by veterans and their family, while also providing them a visit. Since many older veterans are home bound, or don't go out as often as they used to, the new program provides veterans a visitor to break up the monotony of everyday life.
The program also provides Swaser a chance to share his love of cooking with others in the community.
"I've always just loved talking to the veterans and hearing their stories. It is as much therapy for me as it is for them. Sometimes it takes being a veteran to understand a veteran. I don't make a lot of money. I live on a limited budget, but this is something I can do. I can cook."

Brett Swaser
Swaser said he reaches out to veterans ahead of time and asks them what they would like to eat as part of the visit. He then purchases the items and gets all of the prep work done before showing up at their home. That's when the cooking takes place and a new bond can be formed between veterans. When he is done cooking he cleans up the kitchen and places any left overs in the fridge.
"Once I am done cooking I will clean their kitchen and leave it in better shape than when I got here," he said. "If I can do a nice home cooked meal of what they want great. But a lot of it is just spending an afternoon and talking. It's a lot easier to sit and talk over a meal."
The meals are free to the veterans thanks to a contribution by the Deer Creek American Legion. Swaser said he is currently accepting names of veterans and their spouses who would like to have him visit their home and prepare a meal. His goal is to have the cooking with a veteran meal once or twice a month.
Anyone who would like to have him visit their home, nominate a person, or for more information, can contact him at (763) 458-6115.