Track teams compete outdoors for first time in the 2022 season
Sports | Published on April 26, 2022 at 4:22pm GMT+0000 | Author: Chad Koenen
0
Girls team takes fifth place, boys finish seventh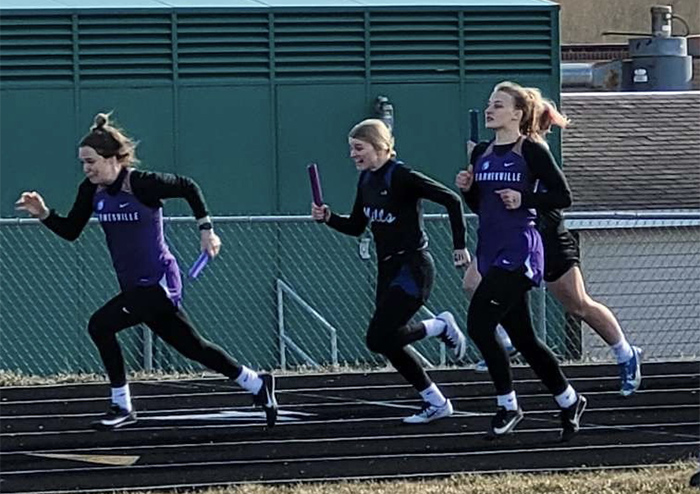 By Chad Koenen
Publisher
The New York Mills Eagles were finally able to compete outdoors last week, albeit on a limited basis.
The Eagles traveled to Battle Lake on Thursday to compete in their first outdoor meet of the season. Due to inclement weather no field events were held on Thursday.
Jada Goeson was the top finisher for the Eagles as she took second place in the 800-meter run with a time of 2:32.93. She trailed just Lindsey Rotz of Barnesville in the event. Rotz finished with a time of 2:27.65.
Bella Bauck and Brielle Malone picked up a pair of top five finishes in the 1600-meter run. Bauck finished in third place with a time of 6:17.22, while Malone took fifth place with a time of 6:35.85.
In the sprint events, Katherin Garcia took eighth place in both the 100-meter and 200-meter run, while Alayna Baune took seventh place in the 200-meter run.
The 4×100-meter relay team of Irene Mursu, Ashley Kassa, Garcia and Baune took second place with a time of 57.62, while the 4×800-meter relay team of Natalie Pederson, Bauck, Maya Radniecki and Malone took third place with a time of 11:52.
The top boys finisher was Creed Mursu who took sixth place in the 1600-meter run with a time of 5:46.73.
The girls team finished in fifth place overall with 40.5 points, which trailed just first place Barnesville with 140.5 points, Bertha-Hewitt/Verndale with 87 points, Otter Tail Central with 79 points and United North Central with 47 points. Browerville finished in sixth place with 21 points and Parkers Prairie was seventh with 13 points.
On the boys side, the Eagles took seventh place with 3 points, while Bertha-Hewitt/Verndale took first place with 157 points, Parkers Prairie was second with 107 points, Barnesville was third with 57.5 points, Otter Tail Central was fourth with 48 points, United North Central was fifth with 29 points and Browerville was sixth with 23.5 points.
The Eagles will return to the track on Thursday when they travel to Pillager.