Great American Think-Off finalists announced
News | Published on May 3, 2022 at 6:51pm GMT+0000 | Author: chadkoenen
0
Finalists to weight personal choice, social responsibility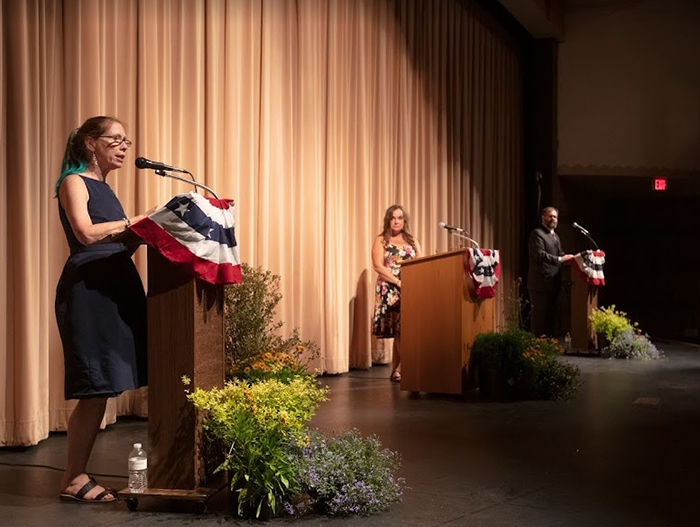 The New York Mills Regional Cultural Center has announced four finalists from the essay contest portion of the 29th Annual Great American Think-Off. These four finalists will participate in a live debate in New York Mills, on Saturday June 11.
The four finalists are (in alphabetical order): Matthew Anderson of Sunnyvale, Calif.; Hunter Liguore of Everett, Conn.; Blaine Rada of St. Darien, Ill.; and Ronald Stewart of Coon Rapids, Minn. These four essayists each win $500 and a weekend trip to New York Mills in June to participate in the live philosophical debate.
During the debate, the finalists will defend their essays, arguing their side of the question, "Which should be more important: personal choice or social responsibility?"
Liguore and Steward will assert that personal choice should be more important, while Anderson and Rada will argue that social responsibility should be important.
The debate among the four armchair philosophers is on Saturday, June 11 at 7 p.m. The finalists will be available to meet the public at the Great American Think-Off Kick-Off event the evening of Friday, June 10 at the New York Mills Regional Cultural Center during a philosophers and artists reception from 6-8 p.m. In addition to honoring the Think-Off finalists, the reception will also feature regional visual artists whose work will be on display in the Gallery's Annual Adult Regional Show. The reception is preceded by a Historical Walking Tour of downtown New York Mills, hosted by the Otter Tail County Historical Society, beginning at 5:30 p.m.
Born and raised in Chicagoland, finalist Matthew Anderson grew up on a steady diet of youth sports, piano lessons and Goosebumps books. He studied creative writing at the University of Illinois before beginning a decade-plus long career in tech. He cycles everywhere—rain or shine (or snow). If he is not on his bike, he enjoys playing Gaelic handball, an obscure sport passed down to him by his father. He cheers on Chicago sports teams even when he knows they'll likely lose. He lives in the San Francisco Bay Area with his fiancée.
Finalist Hunter Liguore is the award-winning author of Whole World Inside Nan's Soup (2022 Paterson Prize for Books for Young Readers Winner, 2022 Anna Dewdney Read). Her writing explores interconnectedness with all people, reciprocal relationships with the natural world, and kindness for all, without exception. Hunter holds an MFA in Writing, with related degree work in History. She is a Professor of Writing at Lesley University, Cambridge, Mass.
Finalist Blaine Rada is an accomplished training professional with over 30 years of experience in the mortgage industry; his focus is on helping organizations rise above the competition. As a member of the National Speakers Association, Blaine has achieved its highest earned designation, the Certified Speaking Professional (CSP). Rada is a member of Mensa (the high IQ society), but isn't nearly as smart as that sounds, just ask the people who know him best. He recently became an author, writing about his 500-mile walk across Spain.
Finalist Ron Stewart is an information security professional at Optum and has worked in information technology jobs for over twenty years. He has been married to his wife, Shannon, for 28 years, and is the proud father to three college-aged daughters: Tierney, Amissa and Galyna. Rounding out his family is a rescue pup, Tanzen. Stewart's interests include movies, storm chasing, softball, and theatre. He lives in Coon Rapids, Minn.
The public is invited to attend the live debate in New York Mills, on Saturday, June 11 at 7 p.m., to witness these four armchair philosophers engage in lively civil discourse. Tickets to attend the live debate are $12 in advance, or $15 at the door; students just $5.
The debate is held in the NY Mills High School Auditorium. All audience members get to vote in the contest to help decide who will hold the title of America's Greatest Thinker for 2022. A reception honoring the finalists and open to all will be held at the Cultural Center immediately following the debate.
COVID safety guidelines continue to be followed at all Cultural Center events. Ticket prices will be refunded if unable to attend due to illness.
For more information or to buy tickets please call the Cultural Center at (218) 385-3339, visit the Center's website at kulcher.org, or get tickets online at thinkoff2022.bpt.me/.