'Kitchen Saints' now on display at Cultural Center
News | Published on May 3, 2022 at 4:03pm GMT+0000 | Author: Chad Koenen
0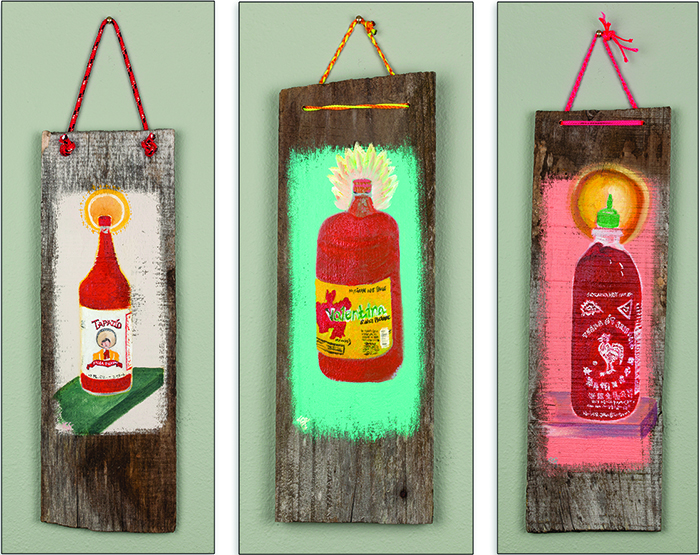 The New York Mills Regional Cultural Center has on display and for sale in its gallery paintings and photographs by Artist Kandace Creel Falcón of Erhard. The show titled "Kitchen Saints" will be on display in the gallery through May 21.
Falcón, Ph.D. is an interdisciplinary feminist scholar, writer, and visual artist. Their life's passion grounds the power of narrative for social transformation. Drawn to interdisciplinary inquiry and mixed-media methods of painting, fabric arts, and writing, KCF brings together various mediums to make sense of the world around them.
Falcón's artist statement says "Kitchen Saints is a gathering of original oil paintings on found wood, giclée prints of digitally manipulated geographic portraits and human subject portraits, acrylic painting studies from my studio practice, and a zine of collected stories of Otter Tail County Latinx food workers and community members. This multidisciplinary approach allows multiple points of entry for exploring the role of Latinx foodways in our rural communities. This exhibition grows out of a grant from Rethos where I collected stories and photographs of Latinx people and places connected by food in Otter Tail County from 2020-2021."
Falcón's paintings of the "Kitchen Saints" on reclaimed wood are vibrant and joyful.
"All of the works are tied together by my desire for recognition, dignity, and acknowledgement of our Latinx presence in rural places enhanced by my investment in bold, vibrant color, and joyous imagery that I hope encourages deeper engagement by the viewer," said Falcón.
A reception will be held Friday May 20, from 3-5 p.m., with an artist talk at 4 p.m. This event is free to attend and all are welcome. Refreshments will be available.
The New York Mills Regional Cultural Center's gallery is always free and open to the public. Open Hours: Wednesdays and Thursdays 10-7 p.m., Fridays 10-5 p.m., and Saturdays 10-3 p.m. Special showings can be arranged by appointment. The Cultural Center continues to observe COVID-19 safety guidelines; please stay home if ill.
These activities are made possible in part by the voters of Minnesota through an operating support grant from the Minnesota State Arts Board, thanks to a legislative appropriation from the arts and cultural heritage fund.
Material support for the creation of the 13 oil paintings on found wood was provided by an LRAC Quick Start Grant. To learn more, visit kulcher.org or call the Cultural Center at 385-3339.