A family that works together, thrives together
News | Published on May 10, 2022 at 6:50pm GMT+0000 | Author: Chad Koenen
0
Nine descendents from Bauck family attend state FFA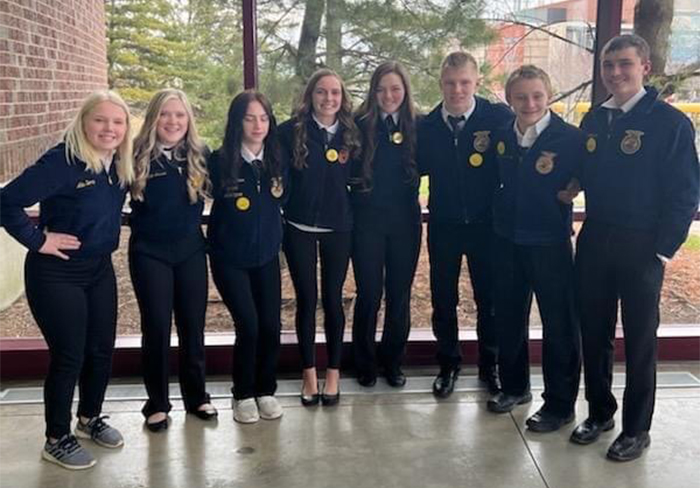 By Tucker Henderson
Reporter
Rural communities, especially those in Minnesota, are no strangers to agriculture. In fact, you can't step outside the city limits of New York Mills without being greeted by farm fields, grassy pastures, or turkey barns. This is one of the charms of small-town America and there lies a long-standing tradition in each milk parlor, tractor seat and weather worn chicken coop.  ¶  The Bauck family is an example of long-standing agriculutral traditions. Rowland Bauck, 96 of rural Otto Township, raised a family of nine children with his late wife, Lillian. While Bauck still lives on the farm he purchased in 1951, his three sons have taken over the day-to-day operations. Bauck eased off the daily barn chores at age 93 and now takes his work orders from them.
A good work ethic and strong morals helped shape Bauck's long life and the lives of his nine children, despite a lackluster early education and one unsupportive school administrator.
"I went to country school," Bauck said. "I didn't know letters had sounds until I got to St. Paul's School in Perham in seventh grade. I was very good with numbers, but I was a poor speller.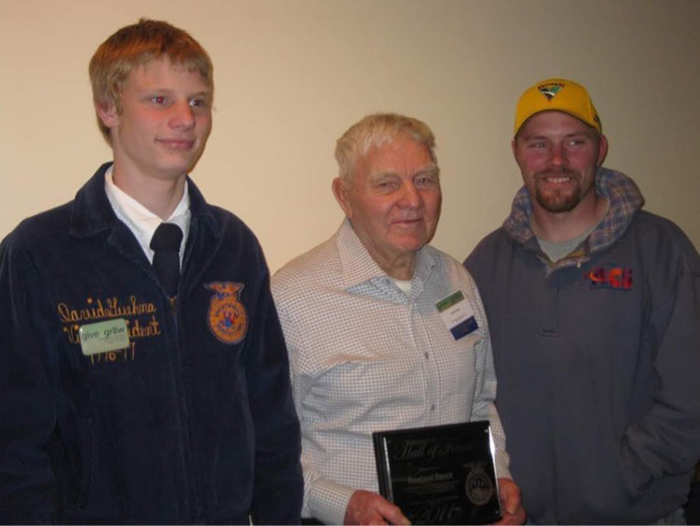 "In high school, you never met with a counselor, it was with the superintendent. I got called to his office and he asked me what my plans were when I graduated. I told him my uncle Sam would take care of me for a couple years. He looked at me and said 'No matter what you do, you're going to fail anyhow.'"
Bauck was drafted into the military for World War II after high school and his uncle Sam indeed did take care of him for a few years.
After his life in the service, Bauck got married to his wife Lillian and they purchased a farm in Otto Township to raise their family. Life wasn't always easy for the Bauck family, but it was always honest.
"I would sooner get beat out, than to cheat someone else out of something. I never took advantage of anybody. I just can't do it." 

Rowland Bauck on his morals
He stressed how lucky he was in his life.
"I had a lot of luck and I wasn't scared to work," said Bauck.
As more children were born, lessons in parenting came right along with them. Some were easier than others.
"To be a good teacher, you have to have patience," said Bauck. "You can't tell all the kids what to do. They're going to do quite a bit of what they want."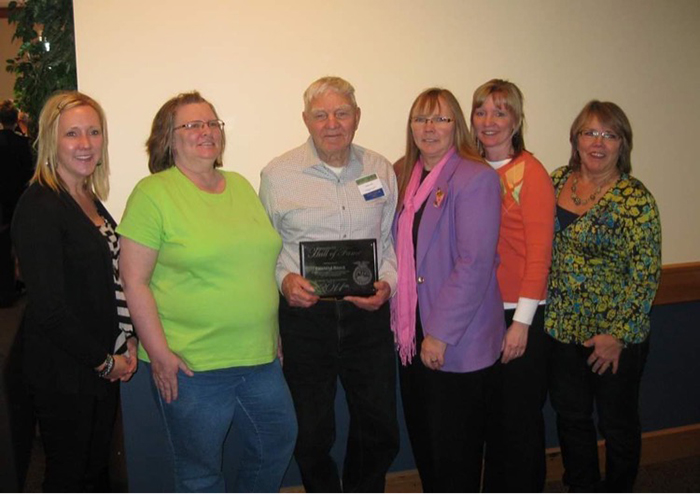 As grandchildren and great grandchildren starting to come along, those lessons were passed down by Bauck's children.
"Kids are kids. They aren't all perfect. I didn't do everything quite right either growing up, but I straightened out quite a bit," said Bauck. "Sometimes the ones you push a little harder at first, come out real good in the end.
"I'm getting up in age too. The older I get the more young kids come in the house. The kids enjoy it too."
Bauck said that his wife Lillian and his family were the largest part of his success in life.
"Life is a lot of luck too, though. Somebody told me, 'What would you have been without Lillian?' I said 'What would Lillian have been without me?' We worked pretty darn well together. Luck has a lot to do with having the wife I got."

Rowland Bauck on his late wife, Lillian
Passing the torch
Bauck was inducted into the Minnesota State FFA Hall of Fame in 2012 after a long career in agriculture. His legacy shined bright this year as nine of his descendants attended the state convention this year, eight being student participants and another as an instructor onsite.
Third and fourth generations of the Bauck family were well-represented in FFA members Rowland and Dixie Dykhoff, Moriah, Kaitlyn, and Austin Geiser, and Madison Ruther of New York Mills, Kale Geiser of Thief River Falls, and Elzetta Bitker of Ada-Borup.
Leah Bauck, a granddaughter, was working onsite educating FFA students on Highly Pathologenic Avian Influenza and what to do if they notice illness in their birds. She also offered advice on how the Minnesota Department of Health plays a role in the HPAI response to this illness.
As the Bauck legacy continues, farming is certainly ingrained in those who choose to take an active role in their own heritage.
The younger generations have made good use of the wisdom of their elders and continue to keep learning and passing on their own life lessons that they've learned over the years. Though sometimes, it just comes down to a bit of luck.
"I had so much luck it wasn't even funny," Bauck said about his life. "I had darn good family help too."