Learning lessons on, off the water
News | Published on May 10, 2022 at 6:34pm GMT+0000 | Author: Chad Koenen
0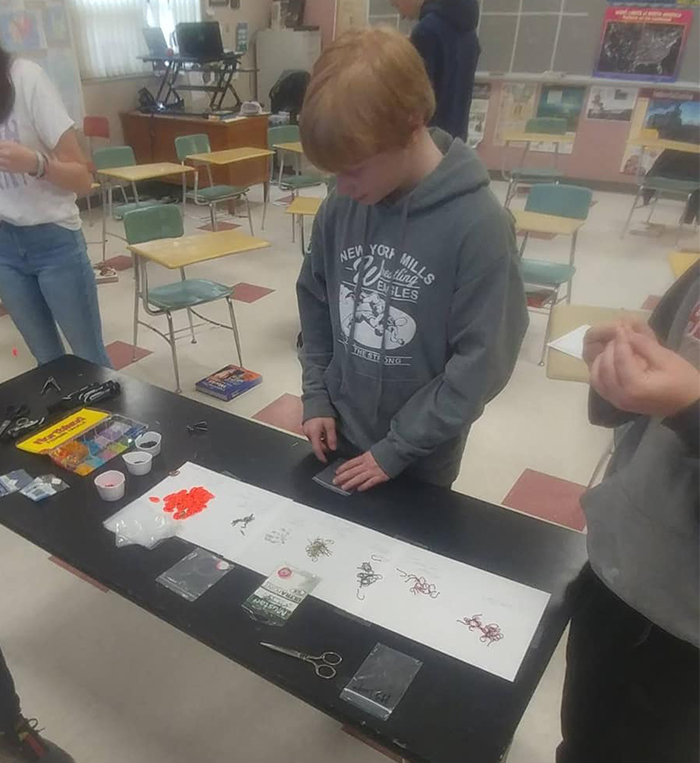 By Tucker Henderson
Reporter
As fishing opener draws crowds to area lakes this weekend, the New York Mills Eagles fishing team will be gearing up to start their six-week season.
The league was started five years ago by Chad Keskitalo in hopes that the youth in the area would have an outlet for learning about and enjoying the bountiful resources that Minnesota lakes country has to offer. Now in its fifth season, the fishing league has gone from only a handful of members, to 30 student participants.
Co-head coach William Grieger teaches students how to make their own lures in his classroom, as an applicable lesson that they can use in their own backyard.
"Our goal isn't just to win. I try to teach them some of the stuff about fishing so that when they go out with their boat captain, they can tie their own hook. They're self sufficient." 

William Grieger, Co-head coach
Costly lures can be avoided as well with the do-it-yourself option.
"You buy one in the store, it's two bucks. You make it on your own, it's 81 cents and a little bit of time," said Grieger.
Fishing starts on June 16 as the first fishing night kicks off. Five weeks of competition will be held June 16, 30, July 14, 28, and Aug. 11 and a final championship on Sept. 10.
Each competitor will have their four best league event scores taken to decide whether or not they will compete at the championship and compete for Angler of the Year awards.
Big Pine, Lida, Rush, Star, Big Detroit and Pelican Lake will be some of the local lakes that competition will take place on. Students from grades six through 12 will participate with parents, grandparents and community members that donate their time and use of their boats in order to support this sport.
With the growth of the league in the past few years, these supporters are essential to each team.
"Our team has tripled since last year. We have a lot of sixth grade students that are excited to start this year. Last year's success, I think, inspired a lot of kids and we have a lot of kids with parents that enjoy the outdoors coming through the school right now."

William Grieger
Each student's score is determined by the length of their team's five best fish that they chose to measure per night. Inches are converted into points and the team shares a score.
"It levels the ball field," Grieger said. "If (one team) catches 20 fish they get to keep five. If (another team) catches only 10 fish, the five biggest fish count for their score card."
He mentioned that the score cards have changed since last year in hopes of avoiding so many ties between teams.
Keskitalo and Grieger are both longtime fisherman and have both started youth fishing leagues. Keskitalo started the NY Mills Eagles Fishing League five years ago and Grieger started a youth league in Parkers Prairie. Grieger is also the president of the NY Mills adult fishing league.
"It's nice to see the League evolve from the beginning," said Grieger. "To see the excitement of the kids to try new things. To learn more about fishing."