Hanson hands over the reigns in city of Ottertail
News | Published on May 18, 2022 at 3:23pm GMT+0000 | Author: Chad Koenen
0
City clerk/treasurer to retire from position at the end of May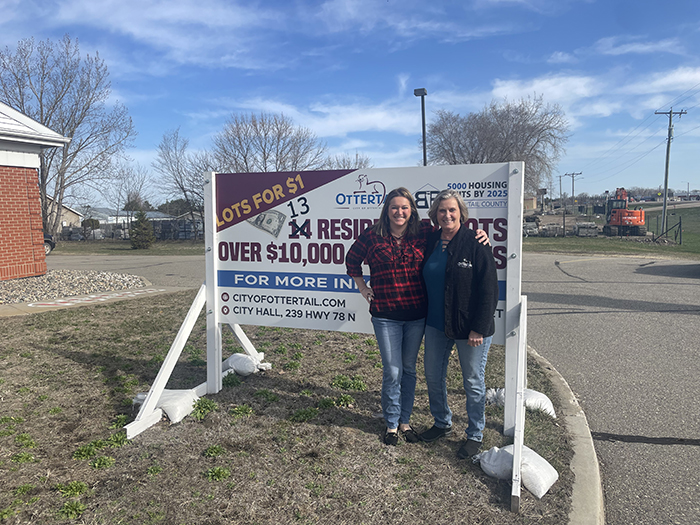 By Chad Koenen
Publisher
Elaine Hanson can't help but smile as she talks about the past 12 1/2 years with the City of Ottertail. Hanson started as the city clerk/treasurer in November 2009 and has watched as the community has grown both on the business and residential side.
With a population of just 572 when she began, Ottertail's population has grown to 640 people. New businesses are following the trend by relocating and expanding to the busy community on the shores of Otter Tail Lake. The variety in the job tasks and watching the community grow so much in such a short period of time has made her position as a clerk/treasurer extremely enjoyable over the years.
"It's something different everyday, there is no monotony in this job at all. I liked being able to watch Ottertail grow."

Elaine Hanson, outgoing clerk/treasurer for the City of Ottertail
As she reflects on her time as the clerk/treasurer in Ottertail, Hanson is excited to see the community continue to grow in the future, albeit in a slightly different role at the end of the month. She will miss the people and the variety of the position she held for the better-part of a decade.
Hanson is officially retiring on May 31 and is looking forward to the opportunity to start the next chapter of her life.
Though she was planning to retire next January, a bout with COVID-19 bumped up that time line as she began thinking about what she wanted to do beyond working full-time.
"I had Covid last winter and I said, you know what, maybe I will retire a little earlier," she said.
What made her decision a bit easier to retire was the good hands the city office staff is currently in as new city clerk/treasurer Amanda Thorson has been with the City of Ottertail for 2 1/2 years. She had previously served as deputy clerk.
"Amanda has been here 2 1/2 years and she is ready," said Hanson.
Nessa Burlingame also recently joined the City of Ottertail as the new deputy clerk and has spent the past month learning the ropes as Hanson has cut back on her hours of late.
Once she officially retires, Hanson is planning to do some traveling and may even work part time at the Silver Sage Guest Ranch by Clitherall. She is also planning to do some gardening and just work on some projects around her home.