Bible reading marathon to return to NYM
News | Published on May 31, 2022 at 7:06pm GMT+0000 | Author: Chad Koenen
0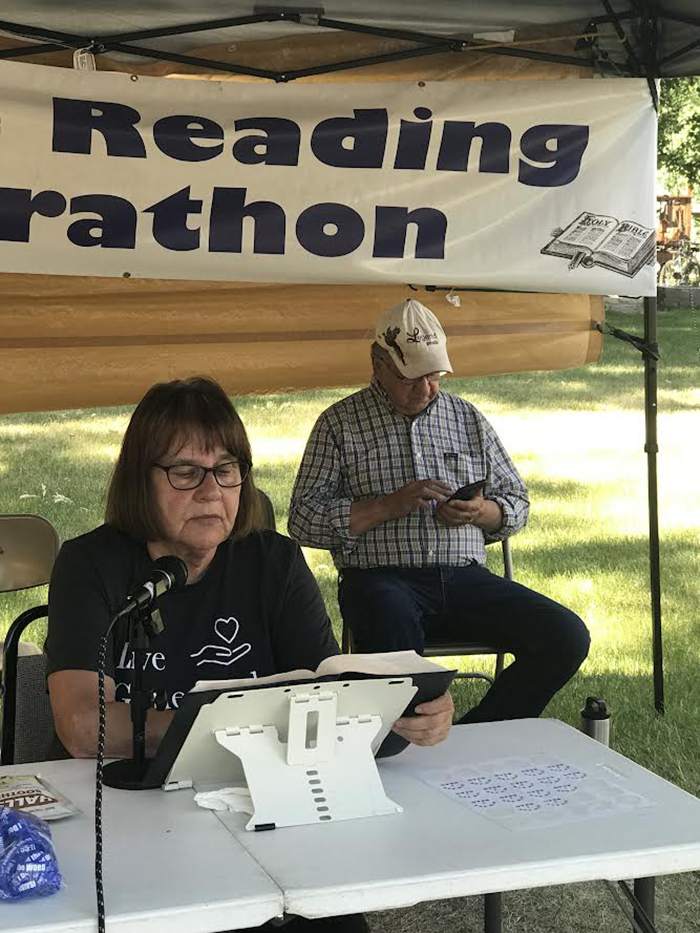 By Tucker Henderson
Reporter
Summer is a busy time in the lakes area and New York Mills is not immune to the hustle and bustle of summertime activities. One of the many event opportunities in the local community is coming up soon.
The third annual Bible Reading Marathon will take place from June 19-26 at 12 West Gilman Street in NY Mills.
The event kicks off at 3:30 p.m. on Sunday, June 19 with a short worship service and then the Bible reading will commence at 4 p.m. The plan is to read the Bible from cover to cover over the week-long period of time. Volunteers are sought to read for one, or multiple, 15 minute segments. All ages, reading abilities and faith backgrounds are welcome. No church affliation is necessary.
"For people that are nervous about doing this, don't be. You are giving into our community," said committee member Sandi Bentley.
The three person committee behind organizing the event are Louise Amberg-Jokela, Bentley and Mike Malone. The three have been involved with the event in past years and shared some of their own experiences with the Bible Reading Marathon.
"It was so quiet and there was an awe in doing it. There was serenity and peace."

Louise Amberg-Jokela
Tears flowed freely as the experience of reading the Bible washed over some participants. Amberg-Jokela said that it was "so holy" to participate.
"There's a power that comes out of you when you read the word," said Malone. "We want people to get in on this special time."
Malone cited Revelations 1:3 which says "Blessed is he who reads and those who hear the words of this prophecy, and keep those things which are written in it; for the time is near."
Malone's neighbor, Marianne VonRuden, participated in the Bible Reading Marathon last year and enjoyed her experience. She decided to help as Malone had to help remotely, from the Twin Cities during a major family event.
"It was a new experience and I thought it would be helpful," VonRuden said, mentioning that it also had a positive impact on her own mental health. "The only thing I had questions about was the pronounciation of names and the woman behind me said 'we just try to sound it out and keep going,' because there are a lot of names that are hard to pronounce."
VonRuden said that she will continue to participate as it's close to home and an enjoyable experience.
"I'm not a big reader myself, like some people are, so it's a little bit harder sometimes to translate some of that stuff. I plan on helping out again this year when we have it."

Marianne VonRuden
Jim and Elma Keskitalo also participated in the event last year.
"It was a great experience," said Elma. Jim agreed.
"It was unique—you always learn something new when you read scripture," said Jim. "We took an hour block and rotated every 15 minutes."
Jim also mentioned that this year they will be headed to the Apostolic Church Convention in New Hampshire around the time the Bible Reading Marathon will be going on.
"We may be able to squeeze one day in this year," said Jim.
He noted that children would benefit from this experience as well.
"It would be a good experience for younger children," he said.
As the committee continues to prepare for this year's Bible Reading Marathon, all are invited to attend and no church affiliation is necessary.
"I encourage people to try this out," said Bentley, "It's a very special and unique experience."
Volunteers can sign up to read for 15 minutes or more at biblereadingmarathon.org and click on NYM Sign Up Here.