Cultural Center to host Spring into Summer 
News | Published on May 31, 2022 at 6:51pm GMT+0000 | Author: Chad Koenen
0
Second annual event to be held at Sculpture Park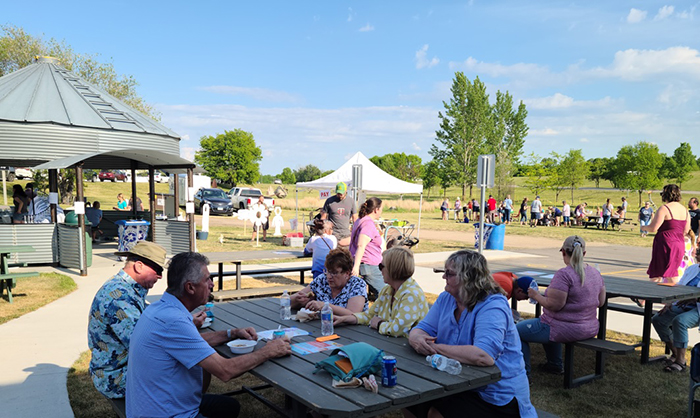 The Cultural Center in New York Mills will be hosting its second annual Spring into Summer event on June 1. The family-friendly community art and cultural exchange event will be held at the Sculpture Park/Barn from 4-7 p.m.
The Cultural Center will be partnering with Niijii Radio this year to bring the even to the greater NY Mills area. This partnership will bring the Buffalo River Dance Troupe to NY Mills to share Native dancing, drumming, and storytelling, as well as a variety of Indigenous artists and makers sharing quilling, beadwork, Indigenous foods and more.
Finnish culture will be shared through "Salolampi in a Suitcase" from the Finnish Concordia Language Village located in Bemidji, Minn. Salolampi offers a unique experience that immerses campers in a Finnish experience, with a goal to help people learn the Finnish language and culture, and more broadly, discover what it means to be a citizen of the world.
All cultures are welcome at this cross-cultural exchange. Do you have stories, traditions, artistic practices, or cultural food to share? All those offering positive, family-friendly cross-cultural sharing are welcome.
The Cultural Center has also announced its participation in 4Ground: Midwest Land Art Biennial and plans to dedicate a new sculpture created by Minnesota Artist Paul Albright during this event. 4Ground is an inaugural contemporary art festival taking place June-August 2022. Conceived by Franconia Sculpture Park in collaboration with more than 20 community partners including tribal organizations, art museums, and land conservationists, 4Ground is a far-reaching initiative spanning four states (North Dakota, South Dakota, Minnesota, Wisconsin) and tribal lands of the Upper Midwest. 4Ground is designed to raise awareness around important land and water issues affecting the region while celebrating the art, land and history of the rural Midwest and boosting tourism of the region through suggested road trips to experience site-specific land art.
This annual event will once again focus on family-friendly community art activities after a fun and successful first event in 2021, including free children's activities, pay-as-you-go adult art activities, performing arts, artist and maker booths and demos, cultural exchange sharing, food trucks, Otter Tail County's Precious Plastics "We Are Water" creation station, and more.
The Cultural Center has also kicked off its silent art auction at this event with a curated offering of locally made art. The silent auction will continue at the Cultural Center following this event and will end at the Great American Think-Off on June 11.
In the event of inclement weather, the Spring into Summer event will be held on Thursday, June 2. For any questions, or for more information, contact the Cultural Center at 385-3339 or email info@kulcher.org.
This activity is made possible in part by the voters of Minnesota through a grant from the Minnesota State Arts Board thanks to a legislative appropriation from the arts and cultural heritage fund.