Heart of the Lakes Regional Trail updates
News | Published on May 31, 2022 at 6:42pm GMT+0000 | Author: Chad Koenen
0
Multi-use regional trail to connect Perham to Pelican Rapids Trail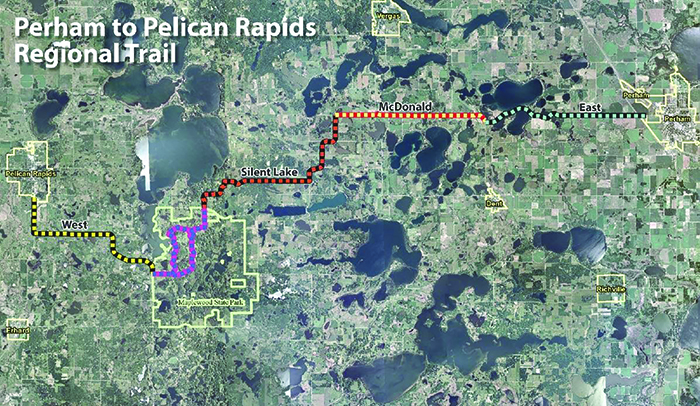 The Heart of the Lakes Regional Trail (unofficially referred to as the Perham to Pelican Rapids Trail) is a 10-foot wide, 32-mile long, multi-use recreational trail connecting the communities of Perham and Pelican Rapids via Maplewood State Park.
The trail is comprised of five segments: Pelican Rapids, Maplewood, Silent Lake, McDonald, and Perham. Otter Tail County, the Cities of Perham and Pelican Rapids, the Minnesota Department of Natural Resources, the West Central Initiative and the PartnerSHIP4Health worked together to develop the Heart of the Lakes Regional Trail Master Plan.
"We are really looking forward to seeing the trail segments come together," said Kevin Fellbaum, Otter Tail County Park and Trails director. "The trail is an exciting feature to enhance the outdoor recreational opportunities in the county."
The Perham segment of the trail was completed last summer in conjunction with the rebuild of County Highway 34 from Perham to County Highway 35. The Pelican Rapids trail segment construction has begun near Pelican Rapids. This segment of the trail begins on State Highway 59 south of the city and extends to County Highway 3; from there it will follow County Highway 3 to Isle View Drive on the west side of Maplewood State Park.
The construction of the McDonald and Silent Lake segments of the Heart of the Lakes Regional Trail will begin this summer. The McDonald Lake segment connects the East segment at County Highway 34 and runs along 440th Street where it connects with the East Silent Lake segment. This segment will take bicyclists to the entry of Maplewood State Park.
Funding for the trail has been provided by state bonding, local matching funds, grants from the Legislative-Citizen Commission on Minnesota Resources and Greater Minnesota Regional Parks and Trails.
In addition to considerable health and community benefits, the Heart of the Lakes Regional Trail will also offer opportunities for economic growth and development.
The leisure and hospitality industry accounts for 18 percent of Minnesota's state sales tax revenues. According to the most recent economic impact study prepared for by the Minnesota Department of Transportation and the University of Minnesota Tourism Center, bicycle event visitors supported $14.3 million of economic activity in the state with the average bicycle event visitor spending about $120 per day. Trails are not just important amenities for visitors, however.
"Outdoor recreational activities are critically important for attracting new families to live and work in rural communities," said Erik Osberg, Otter Tail County Rural Rebound Initiative coordinator.
Parks and Trails
of Otter Tail County
Otter Tail County is committed to developing long range strategic plans, goals, policies and strategies related to current and future public infrastructure and investments within the county, including parks, trails and other public amenities. This infrastructure is a key component of the quality of life for residents throughout all areas of the County. To view maps of the trail visit www.ottertailcountymn.us/perham-to-pelican-rapids-trail/