Phelps Mill repair update provided
News | Published on May 31, 2022 at 6:48pm GMT+0000 | Author: Chad Koenen
0
Historic mill was built in 1889, now serves as park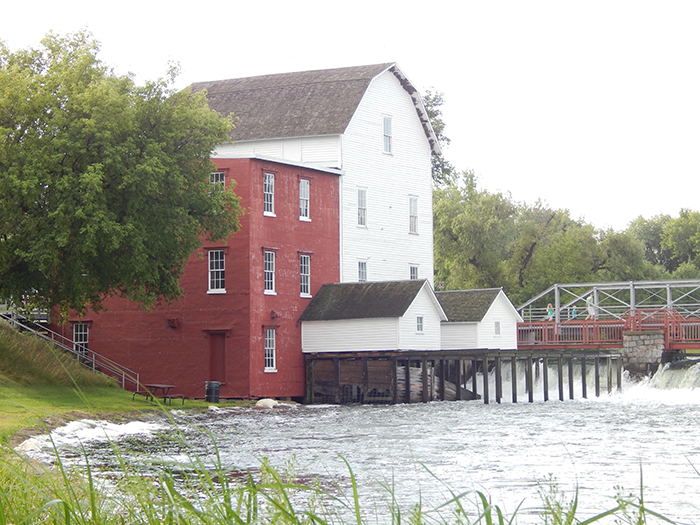 By Tom Hintgen
Otter Tail County Correspondent
The repair of Phelps Mill is into its fifth month.
"The foundation repair is complete," says Kevin Fellbaum, county director of parks and trails. "All that is left are repairs to the miller's office, the concrete steps to the river, the repair and reattachment of the original chutes in the basement and window repairs."
The county board of commissioners receives periodic progress reports from Fellbaum. He has stated that most of the major work should be completed prior to the Phelps Mill arts festival in July.
The building was lifted and new piers were created for the building to be placed back down on. The historic mill was built in 1889, so the Phelps Mill structure is now 133 years old.
"This plan was the most cost effective and sound plan decided on by our architect, engineer and the contractor," Fellbaum said.
The bid accepted and cost of four change orders for the Phelps Mill project comes to $897,885. Otter Tail County received grants totaling $415,630.
The county board, on May 24, heard a report about turbine window plexiglass and framing, resecuring of loose items, installing missing chutes and anchoring new posts.
"The foundation restoration and repair work are intended to retain as much of the building's historic fabric as possible, stabilize the structure, and make significant repairs to preserve Phelps Mill into the future" Fellbaum added.
The work is taking place in phases. Other work has included repairing the boardwalk and covered unloading dock, repainting exteriors as well as other structural repairs and restoration.
The work will be completed by Eagle Construction Company of Little Falls.
County board members, in 2019, approved the purchase of 71.8 acres of land just north of the current Phelps Mill Park. This more than doubles the park from the original 51.2 acres.
The nearby picnic grounds, operated by Otter Tail County, is a popular place for family reunions and other gatherings.
Thousands of photos have been taken at the mill site over the years, and painters have also produced artwork of Phelps Mill.