Esala performs taps in honor of fallen soldiers
News | Published on June 20, 2022 at 6:01pm GMT+0000 | Author: chadkoenen
0
Twin Cities man performs music in Woodland Cemetery
By Chad Koenen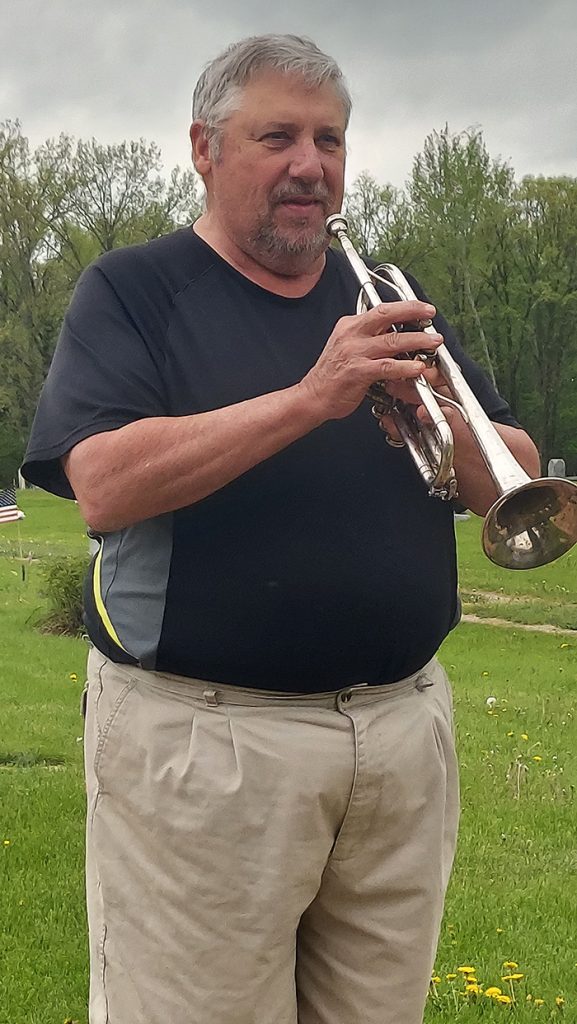 Publisher
With his bugle in hand, Keith Esala stopped in Woodland Cemetery on Memorial Day to break up an otherwise quiet day in New York Mills. When the clock hit 3 p.m., Esala began playing one of the most recognizeable songs for those associated with the military as he participated in the annual Taps Across America program.
As part of the program, people were encouraged to play a rendition of taps at 3 p.m. to honor the sacrifices made by veterans and their families.
"It's something I can do to honor veterans," said Esala.
This is the first year Esala has participated in the program, which encourages people to play taps wherever they are located at the time. He became aware of the program earlier this year when his wife heard about it on the news. He also heard about the program while going through Mills Fleet Farm and decided to lend join the growing movement.
While he lives in the Twin Cities area, Esala has a cabin on Rush Lake and was visiting family in the area during the busy Memorial Day weekend.
"I threw my trumpet in the car when I came up to the lake so I figured Woodland Cemetery would be a good place. There are a lot of veterans who are buried there," he said.
A number of Esala's relatives are also buried in the cemetery, which provided him another way to honor their memory as well. He said there were a few people passing through the cemetery when he played his version of taps and he took time to visit with some of them following the performance.
Playing taps is not uncommon for Esala who is a member of a group called Bugles Across America, which provides music for military funerals. He said a live version of taps is typically enjoyed by those who attend a funeral, more than a recording of the song. In fact, whenever he attends a funeral of a family member who is a vetteran he makes sure to bring his bugle aloing just in case, he is needed when the time to play taps comes about.
"Whenver I go to a funeral of a relative who is a veterans I throw my trumpet iunto the car," he said.
Esala said he is planning to particoate in the Taps Across America program again next year and encourages other people to do the same.
For more informaiton about the program, visit them online at www.tapsacrossamerica.org