Social responsibility prevails over personal choice at think-off
News | Published on June 20, 2022 at 5:54pm GMT+0000 | Author: Chad Koenen
0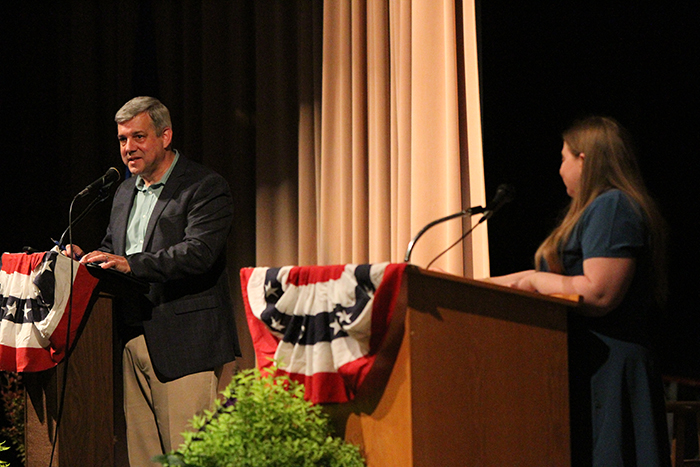 By Chad Koenen
Publisher
Social responsibility is more important than personal choice—at least that was the feeling of approximately 200 people who attended the Great American Think-Off on Saturday night.
Blaine Rada, of Darien, Ill., argued the winning opinion over Dennis Nau, of Fergus Falls, who thought that personal choice was more important than social responsibility in the finals.
In the opening round of the night, Nau defeated Ron Stewart in the battle between personal choice.
In making his point that personal choice was the most important, Nau relied on his personal experience serving in the military, including the time he was stationed in Georgia. He also asked whether anyone can actually agree on what is socially responsible.
"The Republicans and the Democrats disagree on everything. The French and the Germans have disagreed for 1,000 years. Carnivores and Vegans disagree. I needn't say anything about Viking and Packer fans," he said.
He also said social responsibility doesn't always align with what is morally right.
"Nobody would ever assume that every person's choice should trump society's benefit. No one approves of ax murders, people who cheat on their taxes or people who litter," he said. "Still, social responsibility does not always align with what is morally right."
In his argument, Stewart relied on a visit to Ukraine he made in 2007 in which he saw the difficulties some people had with their additional freedoms. That trip helped to spur the adoption of Galyna, who was five and had been dealt a tough hand.
"From that trip, through multiple subsequent visits, and the adoption of Galyna I became acutely aware of some of those cultural differences," he said. "Ukraine, independent from the Soviet Union only since 1991, was evolving. One of many changes was learning how to exercise personal choice after decades of the Soviet Union's focus on social responsibility. As I tried to understand the culture of our youngest daughter, it did not take long to realize that practically speaking, personal choice is more important than social responsibility."
He went on to say that initiative, innovation and integrity are by-products of liberty and allow for thriving at a personal level. He said he saw this in Ukrainians as they gained more freedom they took greater risks and became accomplishing great things.
"Personal choice, in my experience, is more important because it not only allows the individual to strive, but because it allows for society as a whole to benefit from much, much more than would exist if such a choice were not allowed," he said.
In the second round, Rada edged Matthew Anderson by saying the individual rights are the foundation of the Constitution.
Rada said there is a struggle between social responsibility and personal choice, whether that be in business or personal life. He said that continues to social media where people use social media for self-promotion, as opposed to helping out the greater good.
"I can be as self-centered as they come, which is why I understand the real struggle between social responsibility and personal choice. I often get angry when I see others not going the 'right thing' when they appear to be looking out for only themselves, but the truth is that I'm angry because I see a bit of myself in those choices and I don't like what I see," He said. "It's similar to when our children do things we don't like, and yet, like a mirror they're only reflecting back our example."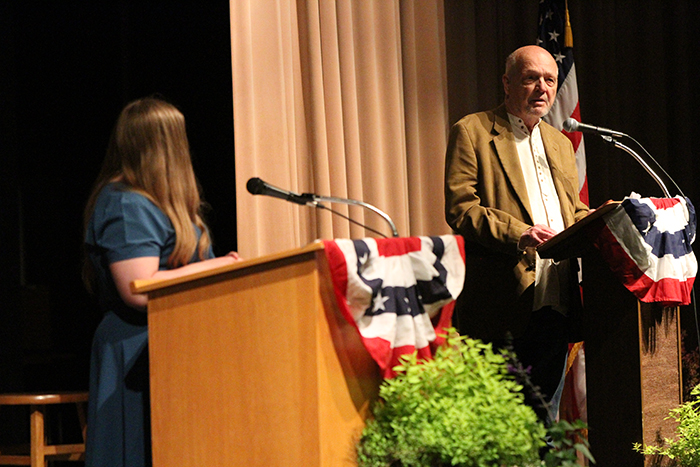 Meanwhile, Anderson said social responsibility is more important, even if it is difficult.
"Even seemingly personal choices impact society. Yes, you could drive a gas guzzler and chain smoke and argue these are your personal rights. They are. But if you think your choices only impact you, they don't. The tax may be long term (pollution and climate change) or hidden (second-hand smoke and increase healthcare costs for everyone), but it's there," he said. "And just because you can, doesn't you should."
He also said the biggest threat to a better world is not selfish people making choices in the name of liberty, but misinformation.
"If we can't agree on a shared reality, we can't agree on what is socially responsible," he said.
In the finals, Rada based his stance on the idea that personal choices depend on a foundation of social responsibility. He contended that the cure for most societal ills is simply to be better listeners and sincerely seek to understand others' perspectives.
"There's a difference between having a right and doing the right thing. We have the right to make personal choices, but we still need to make the right ones," he said.
This was the 29th annual Great American Think-Off in NY Mills. The event was held at the NY Mills School auditorium.