Former Otto Otters continue family tradition for past 30 years
News | Published on June 21, 2022 at 4:31pm GMT+0000 | Author: Chad Koenen
0
Family cleans up ditches on Highway 54 in Otto Township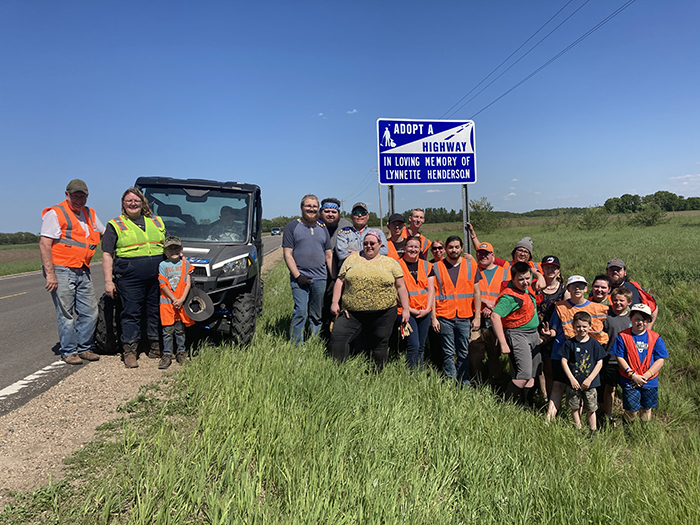 Tucker Henderson
Reporter
As the scent of lilac blooms fill the minds of local residents, green grass flourishes with each passing day, and the sun warms the soil after a long and cold winter, perfect conditions for outdoor activities persist in the area.
The former Otto Otters 4-H Club members and their families continue their tradition of cleaning their Adopt-A-Highway route on Highway 54 in Otto Township.
Thirty years ago, Otto Otters leader Lynnette Henderson filled out the application form for the new Adopt-A-Highway program in Otter Tail County. Highway 54, which makes its way through Otto Township, which at the time was prime Otto Otters territory, proved to be the most logical choice.
The Otto Otters met at the Orlend and Delores Menze home on Highway 54 for many years and in future years met at the Lynnette and Dennis Henderson home only a half mile from the county highway. This route made the most practical sense as leaders and members historically lived on, and often used this route of transportation on a daily basis.
When Henderson's application was approved on February 6, 1992, it was the start of a long-time family-centered tradition.
Even after the Otto Otters 4-H Club disbanded in 2012, the Menze family took on the ditch-cleaning responsibilities and Henderson changed the signage to "Celebration of Orlend and Delores Menze" in honor of her parents, who had founded the Otto Otters in 1959 for their children.
Throughout the years, volunteers for this annual tradition have diminished and the elder generations became ready to retire from this duty. Menze descendents and former Otto Otters members, Tucker Henderson and Samantha Pary, decided they were up to the challenge and wanted to keep this tradition alive. They both started to transition into leadership roles for the event in 2018 and officially took over in late 2021.
Lynnette's grandson, Tucker, and her niece, Samantha, both treasured their memories of their time in the Otto Otters and enjoyed the gathering of family after the group disbanded as they continued to clean ditches.
"I always loved our mini-reunion after we walked the length of the ditches and made sure they were spotless," said Tucker Henderson. "It was the icing on the cake when we could have a campfire complete with hotdogs and s'mores afterwards."
Tucker and cousin Samantha decided around the time of the transition that they would like the elder generation to be able to retire from ditch duties as it could be a grueling job some years.
"I wanted my grandma and my aunts to be able to retire from walking the ditches," said Tucker. "There are enough of us cousins to take over the physical aspect of the ditch cleaning."
With over 100 descendants of Orlend and Delores Menze, there's certainly enough sweat-equity to get the route sparkling clean each year.
"After my grandma passed in 2021, I realized that from the long list of activities she was involved in, this was a part of her that I could keep going, and wanted to see continue," Tucker said. "Grandma was the only lifelong member of the Otto Otters and kept it going even during the years when membership was lean. I'm proud of that dedication and I don't want to see it end with her passing."
Lynnette often planned the cleaning each spring and scheduled it based on the weather. This made the event somewhat sporadic and seemingly spontaneous some years, depending on how long Old Man Winter would linger into the springtime. Leaders.
Lynnette and her sister, Fay Pary, would line up volunteers (usually family members), arrange for vehicles, trailers, and safety gear to be available, and provide the post-cleaning meal. This took a lot of impromptu planning and persuading of volunteers in order to get the project accomplished.
"Without them asking and persisting every year, I definitely would have given up and never gotten as far as to help planning it," said Samantha. "It's important to continue because it shows the younger cousins that doing something for your community can be fun. And to continue what our elder relatives committed to."
Pary said that her favorite part of the event was talking with people that she doesn't often see during the year all while doing something positive for the environment.
"I found out earlier this year that this would be our 30th year cleaning ditches on this route," said Tucker. "I wanted to make sure that my grandma's hard work and years of planning didn't go unnoticed."
After learning about this milestone, Tucker decided that a new sign change was in order. For its 30th year, the Adopt-A-Highway route now reads: "In Loving Memory of Lynnette Henderson" in honor of Lynnette.
A smelt fry provided by Lynnette's son and grandson took place the day of the cleaning on June 4, as well as a potluck with many foods that were particular to Lynnette's cooking, and the annual campfire to roast the traditional hotdogs over. Family and friends of Lynnette gathered to celebrate a life of service and 30 years of cleaning ditches.
"I was so pleased to see so many family members gather to help this year," said Tucker. "It really makes me proud to continue this tradition."