Bringing cheer to NYM for 20 years
News | Published on June 23, 2022 at 8:02pm GMT+0000 | Author: Chad Koenen
0
Design's By Tes Celebrates 20th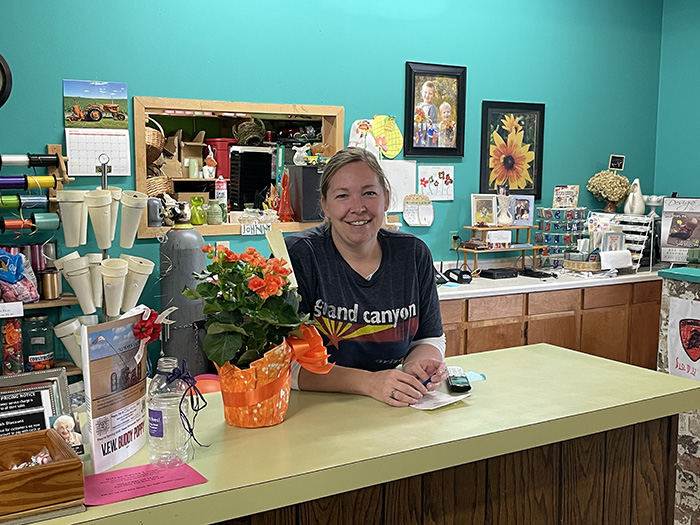 By Chad Koenen
Publisher
Tessa Braukmann has spent the past 20 years sharing in some of the most memorable moments in a person's life.
From the birth of a child to a wedding and death of a loved one, Braukmann has been doing her part to provide a little shine and color for residents across the region. In March, the Design's by Tes owner celebrated her 20th anniversary of owning and operating her flower shop.
A 1998 graduate from NY Mills High School, Braukmann joked that she only left town for two years to attend Fergus Falls Community College, before returning to town and never leaving. That familiarity with the community has not only allowed her to know her customers on a more personal level, but also helps with deliveries when people give directions not by street addresses, but by a former resident's house who hasn't been in the community in 30 years.
"I truly couldn't imagine doing it in another town," said Braukmann of owning her own floral business.
After eventually attending Central Lakes College in Brainerd to learn the art of floral design, Braukmann was working at Ma's Little Red Barn in Perham when Sara and Jeremy O'Dea told Braukmann that they were thinking of selling their NY Mills based flower shop.
"I knew if I wanted to advance or make any money at it I would need my own shop," she said. "It was like it was just meant to be and it just happened."
She was just 22 at the time and said the idea of owning her own business scared her dad a little bit, but she was able to make it through the first few years of owning her own business.
Over the years, Braukmann said she has been blessed to not only be able to own her own business, but be a mom to her two boys at the same time. That means having the ability to close a little bit early to go to a baseball game, having a small place in her store for the kids to play, or staying home if a child is sick. Having the flexibility and understanding of the public has made owning her own business even more special through the years.
"I am so appreciative of the customers putting up with my kids being here," she said.
Now in her 20th year on Main Street in NY Mills, Braukmann said she is looking forward to being able to continue providing color arrangements and flowers to area residents for another generation.
"I have made some good friends and customers and I just like making people happy," she said.