Regional adult art show now on display at the Cultural Center
News | Published on June 23, 2022 at 7:32pm GMT+0000 | Author: Chad Koenen
0
A total of 27 regional artists are participating in local show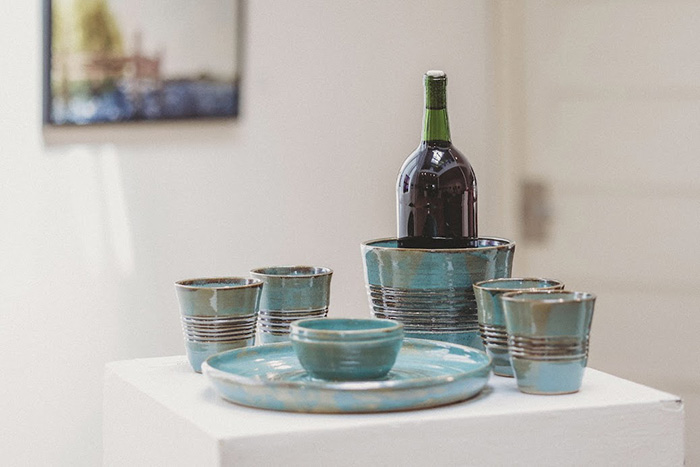 The New York Mills Regional Cultural Center is hosting its annual regional adult art show. This year's theme is, "When the Work is Done" and features the art of 27 of west central Minnesota's finest artists. The art in this show is on display, and for sale, now through July 2.
This annual show is a favorite for local artists and the regional community. It spotlights the incredible talent of rural MN artists. The artwork ranges from prints, paintings, ceramics, mixed media, weaving, wood, and steel sculpture. The work is varied and anyone who visits the show will find something that speaks to them. 
"The artists showing here exhibit a strong knowledge of art that has gone before them," said Robyn Olson, artist and owner of Off the Wall Studio in Clitherall. "I must say, the exhibit is beautifully curated and placed. If artwork had been placed differently we would have a difficult time realizing what they have in common, how they contrast from each other, and how wittily one plays off the other."
The show was curated by Cultural Center Artistic Director Cheryl Bannes.
"Besides the overarching theme of "When the Work is Done," the aspect of the show that speaks strongest to me in a super wonderful way is that so many of the works could be described as painterly sculptures or as sculptural paintings, making hybrids of the media," said Olson. "What I enjoyed next about the exhibit is the humor and joy evident in so many of the works. Yes, these artists are survivors, or perhaps it is their art that allows them to thrive…the yin and yang of art and of being."
This year's winners include: first place: Dick Dubord's woodwork Minnesota/Llama; second place: Troy Becker's screen print, Whistle While You Work; and third place: Jerry Mevissen's mixed media sculpture When the Work is Done.
Five honorable mentions were also awarded: Pam Robinson's Fish, Fin, Nest, Bird; Sandra Shaughnessy's Washi Coffee Press, Brad Wegscheid's When the Drugs Begin to Take Hold; Dawn Rossbach's It Just Never Stops; and Laura Gisamore's Asclepias Incarnata/Swamp Milkweed.
All gallery visitors are invited to vote for their favorite piece of art; a People's Choice Award will be given at the conclusion of the show on July 2.
The New York Mills Regional Cultural Center Gallery is free and open to the public. Gallery hours: Wednesdays and Thursdays from 10 a.m. to 7 p.m, Fridays from 10 a.m. to 5 p.m. and Saturdays from 10 a.m. to 3 p.m. Private viewings can be arranged anytime by calling Cheryl Bannes at 385-3339 or emailing cheryl@kulcher.org.
These activities are made possible in part by the voters of Minnesota through an operating support grant from the Minnesota State Arts Board, thanks to a legislative appropriation from the arts and cultural heritage fund.
Visit www.kulcher.org or call the Cultural Center at 218-385-3339 with any questions.