Mills Country Market celebrates fifth anniversary in the heart of NYM
News | Published on June 30, 2022 at 6:27pm GMT+0000 | Author: Chad Koenen
0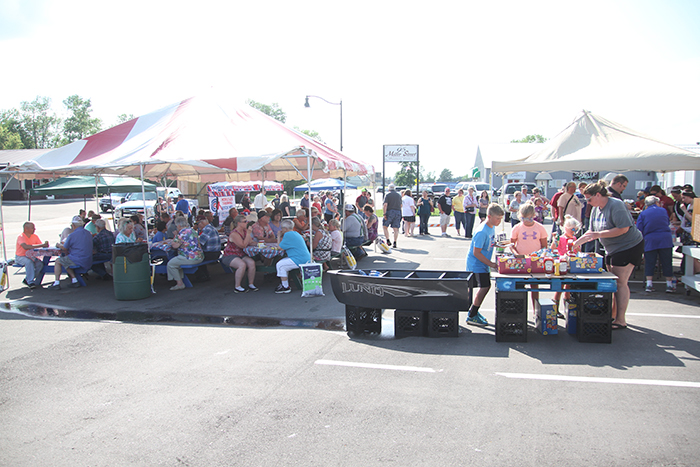 By Chad Koenen
Publisher
Just as the line in 80's sitcom Cheers says, "sometimes you want to go where everybody knows your name and they're always glad you came."
That is the feeling someone gets when they walk in the front door of Mills Country Market in the heart of Miller Street in New York Mills.
A place where owner Tim Muehler, his son Tyler, or one of the friendly faces at Mills Country Market greet customers with a smile, a friendly hello, and on some occasions, a quick joke. There is plenty of time for small talk, while going up one of the aisles at the locally owned grocery store, as people are made to feel like they are more of a welcomed guest than that of a no name customer.
"I like the people. I've been doing this for 45 years and I'm kind of a BSer," said Muehler with a smile. "We are full service. We will bag them and even put them in your car."
There are no self check outs for customers, or need to look very far for an employee if you have a question. The locally owned grocery store employees will even go so far as to bring your groceries out to your car—even on the warmest and coldest days in Minnesota.
After purchasing the grocery store from Dean Simpkins five years ago, Muehler has been busy building on the small town feel of the locally owned grocery store. There are approximately 8,000 SKUs in the store, which includes everything from locally owned products like Canoe Paddle Kettle Corn, Owly Coffee and NY Mills Eagle clothing that is made in town, as well as name brand items that can be found in any big box store.
"We try to be a one stop shop and support local," said Muehler.
Muehler got into the grocery business as a teenager and has never left the industry. He said he enjoys the ability to stock the shelves with what customers want to see in the grocery store and be a part of the greater NY Mills community.
Mills Country Market also continues to offer curbside pick up for those who would prefer to not come in the store. They also offer local delivery on Wednesdays for people who may be home bound or cannot make it to the grocery store.
It's those little things that a small town business does to help customers get the items they need.
This is the fifth year that Muehler has owned the local grocery store. Last weekend he was part of the Miller St. block party in which his nephew Shawn McCann painted a unique 3-D insect that provided some fascinating pictures for those who attended the party.
The block party also included a cook out, root beer floats, ax throwing, face painting and plenty of time to get together with family and friends. The goal of each of the businesses involved was not only to say thank you to local residents for supporting each of the participating businesses, but to bring people to town and show some of what is going on in NY Mills.
Mills Country Market is open seven days a week and is located at 113 Miller St. in NY Mills.