Getting a little dirty at rural NYM School
News | Published on July 5, 2022 at 4:29pm GMT+0000 | Author: chadkoenen
0
Mud Event held at Roots, Wings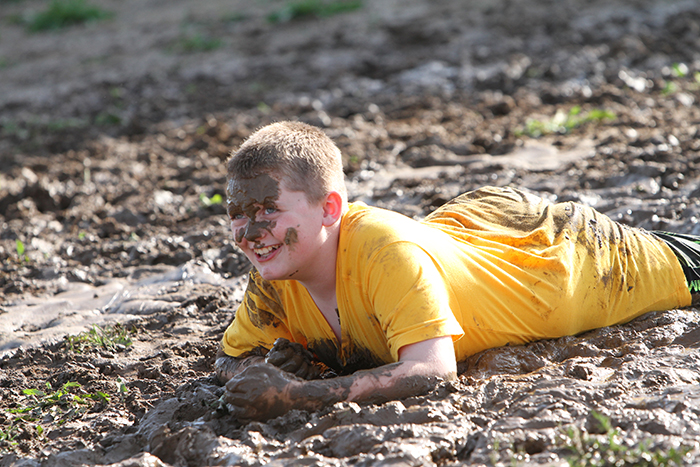 By Kathryn Wilkowski
Reporter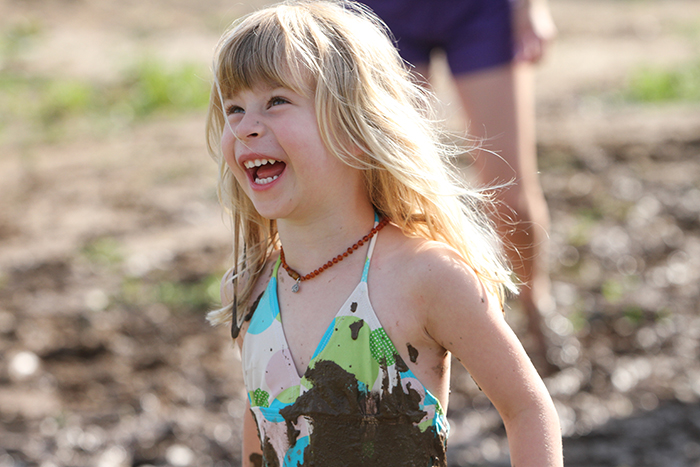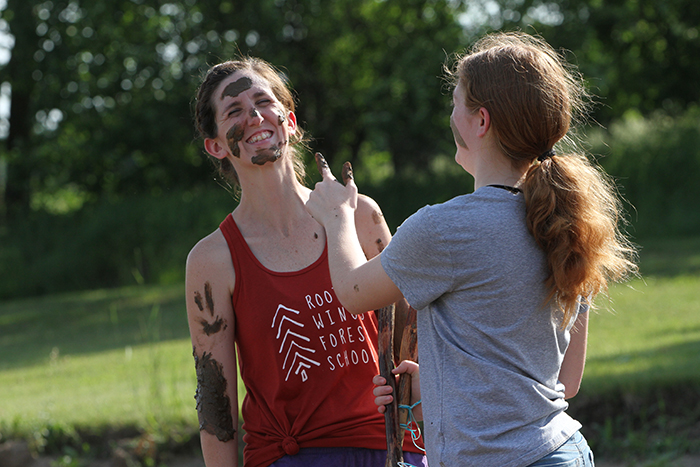 After a successful first two-years in the forest school business, Leona Cichy, founder and director of Roots & Wings Forest School, has widened her reach towards children past early childhood. She will now be offering elementary schooling for children from the ages of kindergarten through fourth grade.
"We believe that each person who enters our doors will find a calling that will change the world," she said.
Cichy grew up in New Jersey all throughout her childhood. She lived there until she met her husband and moved to rural New York Mills. Having over 15 years experience in working with all ages of youth in a variety of settings including camps, schools, and after-school programs, she has a passion for sharing her knowledge, love and curiosity of the outdoors with children and adults alike.
"Growing up, I always loved being outdoors and girl scout camp was the one place that gave me my passion for being outdoors, learning outdoors and leading others outdoors once I got to an age where I could be a part of the staff. So I kind've always had that passion," she said. "Once I got to college, I knew I didn't really want to be a classroom teacher, but at the time I didn't really know there were alternative paths to education. So, I essentially went to school for health and wellness for people with disabilities but stayed working outdoors, helping people, and eventually it led me down this path that I'm on right now."
With a previous full-time position as a program coordinator at the Boys and Girls Club, Cichy spent a great deal of her time with area children and noticed many new habits of this generation.
"I noticed that a lot of the kids didn't like going outside. Or it was too hot or too cold and they just wanted to be inside," Cichy said. "All I could think was, this isn't okay! This is a national crisis. In today's world, we have so much technology and it's just harder to get kids to go outside, want to be outside, and to know what to do when they're outside."
Cichy has substantial training in child development through college coursework, workshops, conferences, training, and real world experience. She has received certification as a Growing Wild Facilitator in the state of Minnesota. In addition to Wildlings, she leads outdoor workshops for adults, weekend wellness retreats, and more. Leona maintains certifications in CPR, First Aid, Wilderness First Aid, Outdoor Mindful Guide and Yoga.
"I always had an idea of starting a forest school in the back of my head but planned to wait till I had kids around that age," she said. "But prior to Covid, I had run a yoga studio in Perham where I had a few outdoor classes and I could connect yoga into nature."
However, as time went on, the pandemic drew back on almost everyone's plans including Cichy's.
"Once the pandemic happened, my yoga studio had to close. Then, I was kind've at a crossroad," she said. "But my best friend had a three-year-old at the time and told me I should try out my forest school idea. So then I figured, why not? I gave it a shot and it was kind've the perfect time to try an outdoor program for kids."
Roots & Wings Forest School opened fall of 2020, with only one morning a week for an eight-week trial session. With 10 kids signing up and 14 on the waiting list, Cichy decided that it was time to grow.
"I realized that this was definitely something that people were looking for and definitely a need in the community," she said. "From there we continued to expand and offer additional days and hours of programming. The first summer we offered programming, we had 43 kids coming out every week; this summer, we have 56 kids coming out every week."
Amanda Mitlyng, a mom from Perham, has been a part of the program since it opened and also worked at the Boys and Girls Club with Cichy.
"I think I saw an ad on Facebook and remembered Leona and Dawn from Boys and Girls Club. Anywhere they go they just shine. They really do," she said. "What my son does here everyday is what we do for fun; this is where his heart comes out. When you have challenging kids, it's hard to find a place that fits their needs, but I get nothing but shining reports."
As fall approaches, Cichy has made more expansions including opening a school age program. Monday through Friday, Roots & Wings School will be available from 7:30 a.m. to 5:30 p.m. for preschool ages and school ages with part-time hours available as well.
"We had a few families interested in continuing to send their children here and that's how I operate. When I see a need or people bring me their need, I try to make it work," she said.
Growing quickly, Cichy now works full-time at the school along with three other staff members including: Kayla Ostlund, Dawn Mostowski and lead guide, Molly Laustsen. With a growing school, Cichy has kept her goal and philosophy simple.
"At Roots & Wings Forest School, we believe that children are intrinsically motivated to learn. Our goal is to promote learning across all developmental domains (physical, cognitive, social, and emotional) by providing a positive environment that encourages discovery and exploration of the natural world in every season," she said. "Our program is play-based and child-centered. We believe that children learn best through direct experience – and children experience the world through play! Our child-centered approach provides children with a sense of confidence, responsibility, and empowerment. We believe that by learning in and about the natural world, children will care for their environment and what happens to it. Spending time outdoors is critical to the physical, cognitive, and social development of children. We spend the majority of our school day outdoors in our forest classroom whenever possible."
Alongside full-time and part-time schooling and daycare, Roots & Wings also offers various family-friendly events including their most recent, National Mud Day where they took part in a mud-pie contest, playing in a giant mud pit, and enjoying the fresh air as a family. This event was free and open to all families.
Attending the event, Christina Kickhafer of north New York Mills reflects on her childs 10-month period attending Roots & Wings.
"We heard about it through one of my friends because she sends her daughter here," she said. "I like it a lot and it fits my daughter, Rose, really well. I actually have my master's in education and based on the new research, this model of education is currently what's best for child development."
Located on 40 acres of field and woods just outside New York Mills, Roots & Wings continues to grow. Cichy hopes to construct a two-room schoolhouse to expand their capacity for the 2022-23 school year and become licensed as a child care center. In the future, they plan to offer an alternative education option for K-12 students as well as homeschool student enrichment while also expanding their summer program offerings to offer weekly summer camps for ages 3-13. She is hoping to also partner with nonprofits and schools to offer field trips and custom programs for all ages and abilities.
For more information about Roots & Wings Wildings Forest Schools, visit https://rwfsmn.org or call (218) 325-0234.