NYM to host annual Fish House Festival on Friday
News | Published on July 5, 2022 at 5:29pm GMT+0000 | Author: Chad Koenen
0
Event to feature a mix of arts, games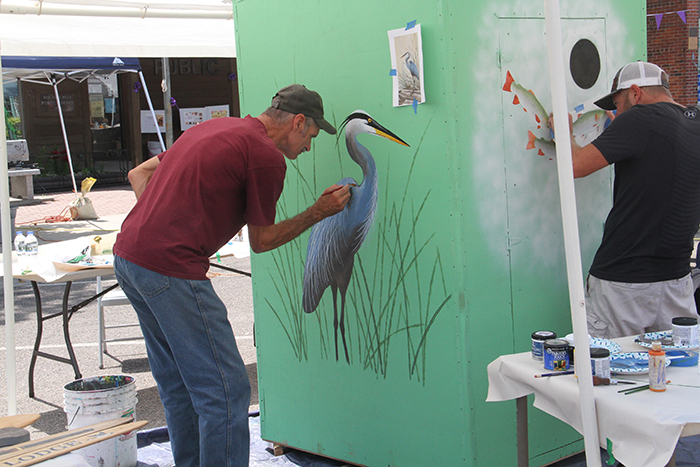 The New York Mills Regional Cultural Center will host its eighth annual Fish House Festival on Friday, July 8, with art, fishing, community, and fun throughout the day. The event will come to a close with a raffle and live auction at 6:30 p.m.  
Artists begin painting in the street at 10 a.m., and family activities begin at 12 p.m. on Main Ave in front of the Cultural Center and continue until 4 p.m. At 6:30 p.m., the raffle drawing and live auction of fish houses, decoys and other art created during the festival will be held in front of the NY Mills Fire Hall on Centennial 84 Drive.
  The Cultural Center's Fish House Festival is held in conjunction with the NY Mills Summer Celebration and Lund Mania Fishing Tournament. NY Mills Summer Celebration activities begin on Centennial 84 Drive after the Fish House Festival, and include Boatville Drags at 4:30 p.m., Lund Mania fishing tournament results at 5:30 p.m., live auction and raffle drawing at 6:30 p.m., parade at 7 p.m. and street dance to follow. There will also be a coin scramble, bouncy house, and variety of activities and food vendors in Central Park throughout the evening.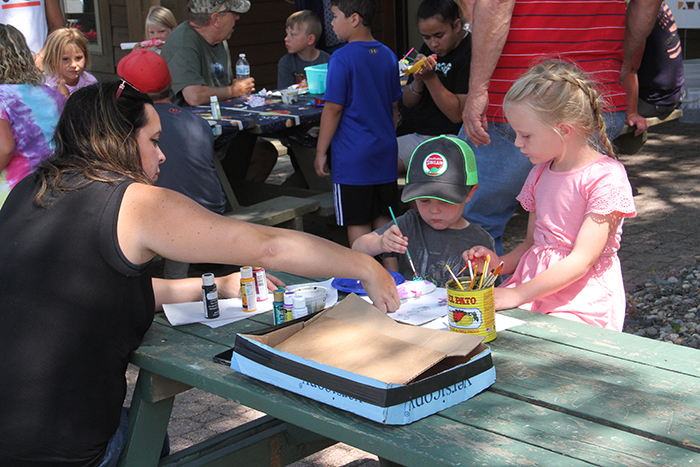 The Fish House Festival includes artists painting in the street, sidewalk chalk, bubbles, tie dye, games, fish cookie decorating, free "Art in Your Park" activities for kids, youth decoy painting, the annual Decoy Show and Nature Art Exhibit inside the gallery, food for sale, raffle and live auction, and live music by James Bzura. All are welcome and most activities are free for all to enjoy. Tractor t-shirts will be available to tie dye for $15 per shirt.
Youth Decoy Painting begins at 1 p.m. with limited spots available; please call 385-3339 to pre-register. Cost is $5/decoy and recommended for youth ages 10+ (or accompanied by an adult); sponsorship support from the EOT Darkhouse Association keeps costs low for participants.
Two ice-fishing spear houses (one each for raffle and auction) will be painted on the street in front of the Cultural Center on Friday between 10 a.m. to 4 p.m. by artists from around the region. Currently confirmed artists include Cheryl Bannes of Wadena; Jacob Sazama of Perham; Kent Estey of Naytahwaush, Minn.; John Peeters, Molly Swanz and Noah Noffsinger, all of New York Mills and Mati Turenen of Vienna, Virginia, Minn.
Raffle tickets are just $10 and available for purchase at the Cultural Center and other NY Mills and Perham businesses (check www.kulcher.org for full list). First prize is a one-of-a-kind ice-fishing spear house, custom built by Ronn Hamm and painted by local artists; second prize is a half-day guided fishing trip with PT's Guide Service; third prize is a John Peeters collectible decoy and fourth prize is Lund Boat gear, including a hockey stick net and backpack.
Live auction bid numbers will be available all day on July 8, from 10 a.m. to 4 p.m. at the Cultural Center and on Centennial Drive after 4:30 p.m. The 6:30 p.m. live auction by Perala Bros. Auctioneers will feature a second artist-painted, Ron Hamm custom-built ice-fishing spear house, decoys and other wildlife art. Proceeds from the auction will be shared equally between the artists and the Cultural Center, to support future community art events.
The Cultural Center will also feature two regional artists in this year's annual Decoy and Nature Art Show in the Cultural Center Gallery: decoy artist Bruce Dixon of Pine River, Minn., and painter Kent Estey of Naytahwaush, Minn.
Bruce Dixon was born in 1952 in Backus, Minn., and now resides in Pine River, Minn. His is work is featured in the Smithsonian Institute of Washington D.C. and the Fishing Hall of Fame in Hayward, Wis. His decoys are also included in many limited-edition fish decoy art prints and fish decoy books.
Kent Estey is a proud member of the White Earth Nation of Ojibwe, in Northwestern Minnesota. He and his wife Becky live and work on the White Earth Reservation in the village of Naytahwaush, Minnesota. Kent paints the land, sky and water that surrounds his Northwestern Minnesota home. See more of Kent's work on his website: kentestey.com.
The Gallery show will be on display July 6-30, 2022. Gallery Hours are Wednesday and Thursday from 10 a.m. to 7 p.m., Friday from 10 a.m. to 5 p.m. and Saturday from 10 a.m. to 3 p.m. Private tours available by contacting Cheryl Bannes at 385-3339 or cheryl@kulcher.org. Admission to the Gallery is always free and open to all.
This event is made possible by an ongoing partnership with the National Fish Decoy Association and Rod Osvold. It is also sponsored by Lund Boats and also to the East Otter Tail Darkhouse and Angling Association and PT's Guide Service.
This activity is also made possible in part by the voters of Minnesota through an operating support grant from the Minnesota State Arts Board, thanks to a legislative appropriation from the arts and cultural heritage fund.
For more information, call the Cultural Center at (218) 385-3339 or visit the Center's website at www.kulcher.org.