Braves edge Millers in annual fireworks game
Sports | Published on July 11, 2022 at 7:11pm GMT+0000 | Author: Chad Koenen
0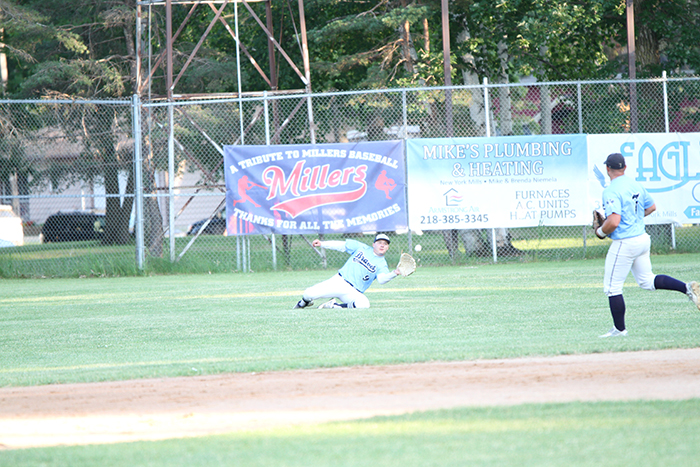 By Chad Koenen
Publisher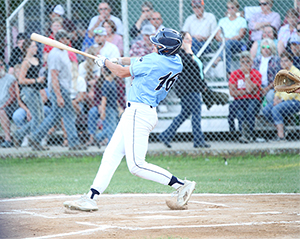 In what proved to be a pitching duel, Bluffton defeated New York Mills by a score of 2-0 in the annual Braves and Millers fireworks game on Saturday, July 2.
The Braves got on the scoreboard in the top of the second inning when Josh Dykhoff hit a triple. Payton Rondestvedt was thrown out at the plate, but Josh Dykhoff remained at third base with just two outs. Justin Dykhoff followed with a single to right field to bring Josh Dykhoff home to make the score 1-0.
The game remained at 1-0 until the fifth inning when Jake Dykhoff hit an RBI single to bring Isaac Haman around to score from second base and make the score 2-0 in favor of Bluffton. Despite a number of chances by both teams to get runs across the place the rest of the game, the pitchers and defenses were able to keep each team off the score board. Both teams stranded a number of runners on base as Bluffton stranded 9 runners and NY Mills stranded 8.
Jake Dykhoff picked up the win on the mound for the Braves as he went all 9 innings and gave up just 5 hits, while striking out 12 hitters.
Austin Maneval took the loss on the mound for the Millers as he pitched 4 innings and gave up just 1 earned run and 5 hits. Derin Gaudette pitched the final 5 innings of the game in relief and gave up just 2 hits and 1 run.
The loss dropped the Millers to 9-3 on the season.
This weekend the Millers will travel to Perham on Friday night, while Bluffton will play at Deer Creek on Saturday.
On Sunday the Millers will travel to Verndale, while Deer Creek will travel to Park Rapids and Bluffton will host Perham.
AB R H  BI
Derin Gaudette 4 0 1 0
Logan Small 4 0 0 0
Brandon Kupfer 3 0 0 0
Tyler Patron 4 0 0 0
Drey Roberts 4 0 1 0
Ethan Hendrickx 4 0 0 0
Adam Patron 3 0 0 0
Maison Roberts 1 0 0 0
Collin Teich 4 0 2 0
Jonah Johnson 3 0 1 0
HITTING- 2B- Derin Gaudette
PITCHING (ip-h-r-er-bb-k)- Austin Maneval 4-5-1-1-1-2, Derin Gaudette 5-2-1-1-4-4
AB R H  BI
Payton Rondestvedt 4 0 1 0
Cody Geiser 4 0 0 0
Josh Dykhoff 4 1 2 1
Justin Dykhoff 4 0 2 1
Jake Dykhoff 3 0 0 0
Kyle Dykhoff 4 0 1 0
Wyatt Hamann 4 0 1 0
Tom Tellers 2 0 0 0
Isaac Hamann 3 1 0 0
HITTING- 2B- Justin Dykhoff, Payton Rondestvedt; 3B- Josh Dykhoff
PITCHING (ip-h-r-er-bb-k)- Jake Dykhoff 9-5-0-0-1-12