Last year's LundMania champions credit techniques for success
News | Published on July 11, 2022 at 7:48pm GMT+0000 | Author: Chad Koenen
0
Friends fish anywhere from 6-8 tournaments each year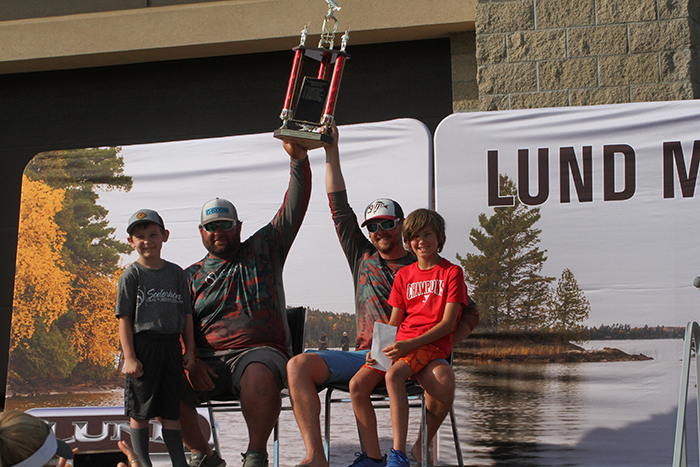 By Kathryn Wilkowski
Reporter
Summer is the season of fishing tournaments here in the midwest. Friday, July 8 marks this season's annual Lund Mania fishing tournament on Ottertail Lake.
Last year's champions, high school buddies Andrew Soderholm and Ben Hittle of Alexandria, Minn., returned to defend their title. Fishing in countless tournaments together, Soderholm and Hittle took home third place in the 2019 Lund Mania tournament and the gold last summer.
"My dad really got me into fishing when I was really young," Soderholm said. "When I moved back to Alexandria, I got into fishing competitively with Ben."
Soderholm and Hittle hit around six to eight fishing tournaments a summer and each tournament they have to try different techniques to catch the right bites.
"We try to fish a lot of different spots," he said. "If we're not getting bites in one spot, we won't wait for the fish, we'll just move to the next spot where we know the walleye are."
At the tournament last summer, both of them knew they had a good bag of fish. Even with the other competitive Lund boat fisherman, they were up towards the top. Soderholm and Hittle fished last year in a 20' 208 Fiberglass Tiller.
"We got to meet a lot of great fishermen in the Lund tournament," Soderholm said. "We appreciate the walleye, the local bait shop, and all the hard work that goes into making a successful tournament like this one."
Soderholm and Hittle returned to defend their title at this year's Lund Mania fishing tournament.