Roberts comes full circle in new venture
News | Published on July 11, 2022 at 7:28pm GMT+0000 | Author: Chad Koenen
0
Lakeland Repair comes to downtown New York Mills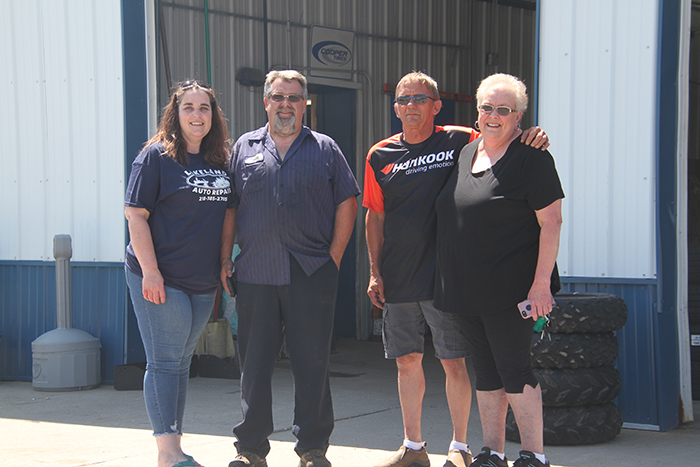 By Chad Koenen
Publisher
Todd Roberts' career has come full circle. The New York Mills native is back to one of the first places he worked as a mechanic, albeit in a much different capacity.
Roberts, along with his wife Brenda, have purchased Dan's Towing and Repair in New York Mills. He worked in the building a number of years ago under the Cenex name, but this time around he will be returning as the owner of what is now known as Lakeland Repair.
"Dan said he wanted to retire," joked Roberts about how he came to purchasing Dan's Towing and Repair.
In years past, Dan Matti told Roberts that he should purchase his family business, but the transition never worked out. This time around the comment about purchasing the business came to fruition. 
"I have mentioned it to him the last couple of years," said Matti of Roberts purchasing the business. "It just happened to all come together."
Matti has spent the past 28 years in his building along E Centennial 84 Drive, first as a mechanic for Cenex and for the past 16 years as the owner of Dan's Towing and Repair. The longtime staple in downtown NY Mills said he originally was looking to work another year or so, but when Roberts expressed an interest in purchasing the business, he decided now was the time to hang up his wrench and enjoy retirement.
"I was going to work another year, but it all fell together and I said let's take care of it and do it," said Matti. "I know he will take good care of my customers."
The two mechanics have a long history together as they worked together as mechanics for Cenex. Roberts eventually left the repair shop for stints at a number of locations throughout central Minnesota, but he always wanted to open his own shop. Since the repair shop was in his hometown made the transition to ownership all-the-more sweet.
"Ever since I was young I wanted my own shop. I figured I may as well get it done and do it," he said.
Prior to taking over ownership of what is now Lakeland Repair Shop, Roberts was working as a mechanic at Mid-State Auto Auction, which was his second stint at that NY Mills based business. His career began at Mid-State Auto Auction a number of years ago, before he made a similar move to the same building he now owns.
Roberts said he is looking forward to serving the community and will even offer more AC and diagnostic services moving forward.
The Matti's said they are thankful for the community who have supported their business for the past 16 years. They said they could not have been successful without all of the support.
"The success of Dan's towing and repair has come from many sources beginning with you, our valued customer. To our dedicated staff and our community support: we will miss all of you. Most of all, we will miss our conversations, which were occasionally creative, philosophical and stimulating; sometimes rambling and always entertaining. Our customers were like family," wrote Dan and Deb Matti in a message to the Dispatch.
While Dan Matti will help the Roberts with the transition over the next month, the Matti's said they are looking forward to spending more time with family, fishing, traveling and completing many of their postponed projects in retirement.
The Matti's are encouraging the public to continue to support the Roberts family as they take over the business.
"Please, extend a welcome to Todd and Brenda Roberts as we are confident they will address your vehicle concerns," they wrote to the Dispatch.
On Friday, the Matti's and Roberts hosted a joint grand opening/retirement party for the NY Mills business. They served brats, hot dogs, pop, chips, cookies and had plenty of time for talking about the new venture for one of the community's own.
Lakeland Repair is located at 20 E Centennial 84 Dr in NY Mills. For more information, contact Roberts at 385-2785.