Wildlife isn't just for the birds
News | Published on July 20, 2022 at 9:16pm GMT+0000 | Author: Chad Koenen
0
Olsens have visited over 540 protected areas for wildlife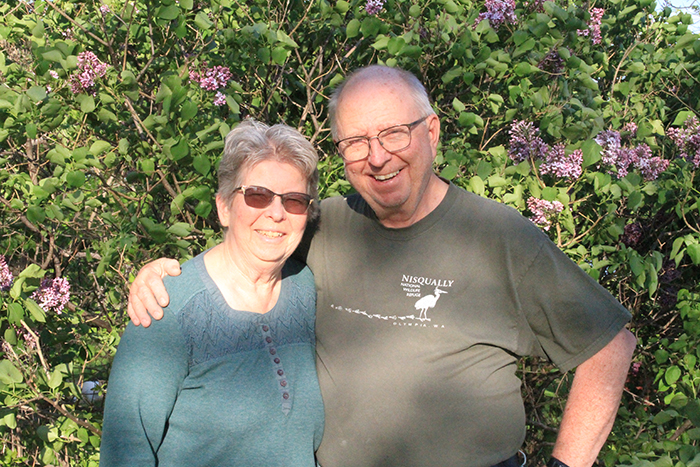 Tucker Henderson
Reporter
Everyone has their hobbies—some like to paint, others will garden and a few will even keep bees. There are so many options that there is certainly something for everyone. One local couple's hobby is visiting the National Wildlife Refuge System (NWRS) which spans the nation.
Marco and Nancy Olsen, rural New York Mills, have visited over 540 of the protected areas set aside to preserve our nation's native wildlife.
So far, this hobby has spanned 49 states and sixteen years worth of vacations, road trips, cross country travel, and sight-seeing adventures. Though the Olsens had visited National Wildlife Refuges before, they decided that they wanted to see more of them after Marco ordered a NWRS Blue Goose Passport book, which lists out the many refuge systems across the United States and has a place for a stamp from each refuge you visit.
Their first stop with their newly acquired passport book was Hamden Slough near Detroit Lakes on July 20, 2006.
"Before we decided to go to all these places, I had only been to four states in the country: Minnesota, Iowa, North Dakota and South Dakota. Now I've been to 49."

Nancy Olsen on seeing the United States
The Refuge system has not always been open to the public and some of them still aren't. Some offices can be located far from any town or city and others might not have an official office at all.
"That was at least half of the adventure," said Nancy. "Finding them. That was a challenge."
The Olsen's Blue Goose Passport book was printed in 2006, so it isn't completely current to all new and old refuges.
One such refuge, Lamesteer National Wildlife Refuge in Montana, closed after their book was printed.
"We found it," said Nancy. "Thanks to a guy that was in an information place along the freeway," said Marco. "He was a local guy and said that he didn't think it was in business anymore. We couldn't believe they had closed it. It's not a very common deal to close a refuge."
"But they didn't take it off the maps," said Nancy. "What we found was the sign posts that used to hold the refuge sign."
The roadway still bore the name of the defunct refuge: Lamesteer Drive. Other refuges can be even harder to find and quite the task to reach.
"Sometimes you need four-wheel drive to get to these places," said Marco.
Despite the trek it takes to get to many of them, Marco and Nancy brave the back roads and try to visit each refuge that falls near the route of their trips. Oftentimes, a highlight of the trip can be found at the end of a dusty, wash boarded road.
"Our all-time favorite is Ruby Lake in Nevada. That is such a magnificent place."

Marco Olsen on his favorite National Wildlife Refuge
"I liked the one in Maine when we were out hiking, and we turned around and there was a moose on the trail behind us," said Nancy.
"They are all interesting in their own way," said Marco. "They're all so different, they're all just magnificent places."
Each office they stop in, they make sure to secure a stamp and note the date that they stopped.
"We know that those stamps are only available during office hours," said Marco. "A lot of (staff) will stay if you call and ask for them to leave the stamp. A lot of times they will put it in the mailbox or under a coffee can."
"One lady even told us to come to her house. She told us how to find her house—she had brought the stamp home with her," said Nancy.
They explained that most office staff at the refuges are very friendly and extremely helpful when asking about refuge stamps, local wildlife, and the refuge system in general.
"They were talking about these urban refuges that they're trying to set up," said Nancy. "One guy said they're trying to get the inner city kids that live on pavement and sidewalks, and have a postage stamp-sized lawn out to see what wildlife and wildflowers is outside the city. Or to establish some spaces within the city."
The National Wildlife Refuge System was established in 1903 by President Theodore Roosevelt with the first refuge in Florida. Since that time it has grown to over 568 national refuges across the country and United States territories.
"Property is set aside for everybody to see the wildlife that is preserved. That's why it's so important to buy Duck Stamps. If it weren't for hunters, we wouldn't have any of this set aside." 

Marco Olsen on the importance of the National Wildlife Refuge System
The refuge system is available for everyone to enjoy, it is a federal program.
"There's not really an entrance free," said Nancy. "A Duck Stamp or a senior pass will get you in to most of them."
As the Olsen's start their 16th year visiting wildlife refuges, they still hold a strong zeal to visit and revisit existing wildlife refuges. They love to see the wildlife, from moose in Maine to whooping cranes in Texas and salmonberries in Alaska, everything holds a certain beauty that can only be seen at refuges across the country.
"You don't get to see them unless you go," Marco said. "It's quite the journey."