Log schoolhouse to be dedicated in Sebeka
News | Published on July 26, 2022 at 4:38pm GMT+0000 | Author: Chad Koenen
0
Dedication ceremony set for Saturday as part of Red Eye River Days at Sebeka City Park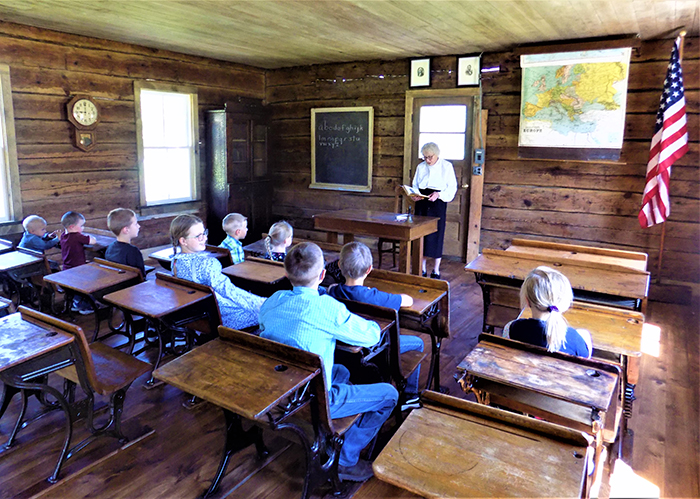 The 1888 Finnish log schoolhouse in Sebeka's City Park is restored to its original glory and will be ready for review on Saturday, July 30, 2022. After over a year of reconstruction, cleaning, sanding, and finishing, the building is set for another 100 years.
The schoolhouse, along with the log barn and sauna, will be open at 10 a.m. on Saturday, coincidental with Red Eye River Days and the All-Class School Reunion. The Sebeka Area Historical Society restoration committee is eager for you to see how an authentic, turn-of-the last-century log schoolhouse looked, inside and out. Visitors will see a new cedar shake roof, replaced or re-sided logs, new doors and windows, scrubbed and oiled walls, and a new pine floor.
All that, plus the fun part—inside furnishings with turn-of-the-last century student desks, stove and wood box, wash stand, blackboards, wall map case, book case, textbooks and 45-star flag. The committee strove for authenticity in the restoration and furnishings and used, wherever possible, items from SAHS inventory.
At 1 p.m. on Saturday, the committee will present a short dedication program outside the school, weather permitting. Presenters will discuss history of the building's early uses and how it got to Sebeka, the restoration process, and future plans for community use. Marlene Mattila Stoehr, granddaughter of schoolhouse builder August Mattila, will share her reflections on the Mattila family and their dedication to education in early Wadena County.
Also in the program, Frank Eld, Finnish historian and culturist and log construction and restoration specialist, will present his views on the historic significance of the schoolhouse. And he will preview his extended presentation which follows the dedication program in the restored schoolhouse.
The committee thanks all those who contributed to the restoration with donations, labor, material, and display items. They cordially invite you to visit the three-building Pioneer Village in the City Park on Hwy. 71 during your visit to Sebeka for Red Eye River Days and the All-Class School Reunion.