Geiser celebrates 50th year with Bluffton Braves team
News | Published on August 9, 2022 at 3:03pm GMT+0000 | Author: Chad Koenen
0
Town team baseball has been a family traadition for Geisers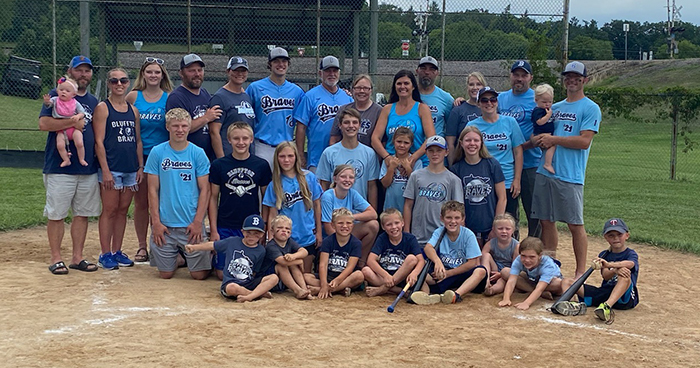 By Tucker Henderson
Reporter
If you attend a Bluffton Braves game, you're sure to notice someone who has been a staple of local baseball for decades. Terry Geiser's children and grandchildren can be seen cheering on from the stands, as well as running the bases in their own Braves uniform.
Geiser joined the Braves in 1972, when he was only 17-years-old. He wasn't just joining the local baseball team, but joining the family tradition as his father had played for the Braves.
"I had been down there since I was a toddler because my dad played there," said Geiser.
Four of Geiser's brothers played for the Braves throughout the years as well. All five of Geiser's sons also joined the team in later years and the latest generation contributed at least one grandson that wants to follow in his father's, grandfather's, and great grandfather's footsteps.
Geiser's sons Dustin and Cody are current players on his team and his grandson Gabe is the first of his generation to join in on the family fun.
For about the past 25 years, Geiser has coached for the Braves. Though he remembered fondly that the team made in to the final eight in the state baseball tournament a few years back, one highlight of his time as coach stands out above the rest.
"The most gratifying thing is to be able to coach my sons and grandson. A lot of these kids on the team, I remember when they were born. I played with some of their dads and grandpas. That's pretty special." 

Terry Geiser on his favorite time with the Braves
He said that the folks that contribute their time and talent to local baseball, whether it's playing, coaching, or cheering from the bleachers, are the lifeblood of the game.
"I wouldn't be there if it weren't for the people," he said. "They are all good people. The people are the most important thing."