New pickleball court installed in Ottertail
News | Published on August 9, 2022 at 3:01pm GMT+0000 | Author: Chad Koenen
0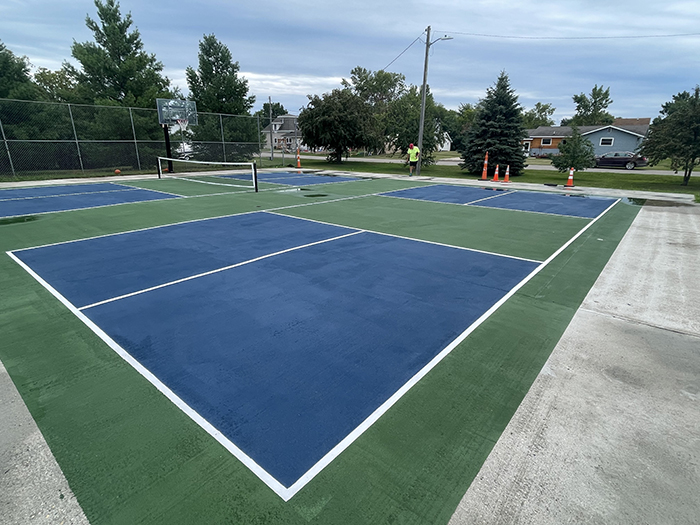 By Kathryn Wilkowski
Reporter
With a budget of merely $26,000, Ottertail added a pickleball court to their city park with the help of many volunteers.
"There has been a few hundred hours of volunteer work done for this whole project," Darold Woessner, project manager explained. "It's amazing. The majority of the contracting that took place here was volunteer help."
Ottertail Mayor Ron Grobeck, pushed relentlessly for the approval of construction for pickleball courts.
"You see pickleball growing in other towns like Perham and with our older population coming into Ottertail, it was obvious we needed another pickleball court," said Grobeck. "It was a demand issue. We saw people needing pickleball courts and that's always the driving factor."
After the decision was made to create the pickleball courts, construction started in mid June. Starting with the concrete, Woessner and his team of volunteers spent countless hours grinding and filling joints due to the original court being uneven.
"The easy part would have been just tearing it all up and putting all new stuff in. But frankly, that would have changed the budget number a lot," he said.
After the new concrete was leveled, paint was put down by the volunteers. For less than $5,000 in total, they were able to create the grounding level for the courts.
"According to how I was rating, if we would have contracted out the painting and the grinding, it would have evened out to be about $18,000 by itself," said Woessner.
With the countless volunteer hours and the push for the project from the mayor, the pickleball courts quickly became a reality for the small town of Ottertail. Bringing in business from tourists and surrounding towns without courts, the project has been a huge hit in the couple weeks it's been open.
"There's a lot of enthusiasm from the local people that play," said Woessner. "It would have never been accomplished if it weren't for the volunteer hours."
The pickleball courts share a common place with the basketball nets and Ottertail's next goal is to expand the concrete so the kids can play basketball alongside two games of pickleball.
"We have to share our public spaces," he said. "There's a lot of interest in pickleball but it's amazing how many kids come up to play basketball as well."
With the ideal spot in the public park, the pickleball courts are set up alongside public restrooms, a coffee shop, and many shops.
"The public's reaction to this project has been extremely positive," Grobeck said. "It drives people to Ottertail. As a tourist attraction, it's a win-win situation."