Finnish heritage to be on display in New York Mills
News | Published on August 16, 2022 at 5:13pm GMT+0000 | Author: Chad Koenen
0
Finn Creek Festival set for this weekend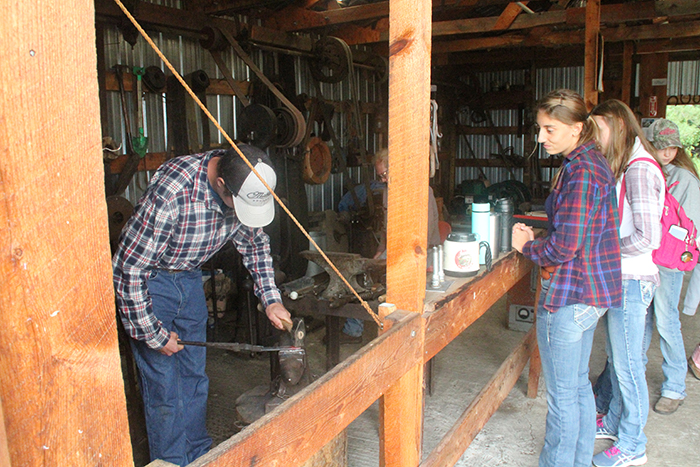 By Tucker Henderson
Reporter
As the last weeks of summer draw near, both Finn Creek Open Air Museum and the New York Mills Regional Cultural Center are providing opportunities to end August with a bunch of new experiences.
The 13th annual Kalevala Puppet Pageant will have two showings again this year with the first taking place at the NY Mills VFW during the NY Mills Civic and Commerce Corn Feed on Friday, Aug. 19 at 7 p.m. and Saturday, Aug. 20 at 12 p.m. on the Finn Creek grounds during the Finn Creek Folk Festival.
An original play is written each year based on characters and stories from the Kalevala, Finland's national epic, which encompasses a large compilation of poetry passed down through oral tradition. Though handmade costumes, props, narrations, and music, the play is brought to life by volunteers and children from throughout the community.
This year's play will feature the story of "The Wise Little Bird" and characters that are staples of the Kalevala narrative will be present such as Väinämöinen, the Dame of Pohjola, and Ukko the Thunder God with his wife Rauni.
The Cultural Center is working with Anne Sawyer, Creative Director and Puppeteer from Minneapolis, as well as Assistant Director Lisa Winter of Wadena, both of whom have extensive experience with puppeteering and stilt walking.
The Finn Creek Folk Festival will also be kicking off on Saturday, Aug. 20 with a range of family-centric activities for all ages. The petting barn will be filled with creatures both cute and cuddly, the kitchen will be offering an assortment of Finnish goodies as well as some American offerings for lunchtime, the ice cream parlor will be serving cold treats during the sunny August weekend.
Crafters, vendors, farmers market and other local unique items will be available to purchase around the grounds as well as some Finnish staples that can be found in the Heinola store.
If blacksmithing, rug weaving, sawyering, live entertainment, steam engines, Finnish goodies and many other cultural and historical activities interest you, make sure to stop by during the festival.
Saturday starts off with an 8 a.m. pancake and pannukakku (Finnish oven pancake) breakfast to start the day off right followed by a slew of events. Finnish Conversation and Heritage hour will take place at the school house by Amy Iida Tervola Hultberg at 9 a.m. followed by a storyteller/photographer Doug Ohman of Minneapolis giving a presentation on historical aspects of Minnesota's rural life. Ohman is a historian and storyteller that presents on a variety of Minnesota's unique attributes around the state.
A children's tractor pull will start at 11 a.m., which is followed by the Puppet Pageant at noon with musical selections of Harmony & Strings of Duluth following at 1:15 p.m. Ohman will have another presentation at 2 p.m. and a plethora of children's activities will be available at the same time.
Harmony and Strings will have another performance at 3 p.m. before Finnish music will be played for all as the festival winds down for the day.
Sunday starts off with an 8:30 a.m. breakfast and at 10 a.m. local pastor Nicholas Kandoll will be giving an English church service with local pastor Andy Tumberg delivering a second sermon in Finnish.
Local musical variety Flashbacks will be performing at 11:30 a.m. and a live auction by Perala Bros. Auctioneering will take place in front of the Heinola store at 1 p.m. where a variety of donated artwork and items will be for sale.
Flashbacks will perform again at 1:30 p.m. followed by more children's activities at 2 p.m. The Carlson Family from Minneapolis will perform their musical assortment at 2:15 p.m. followed by Finnish Conversation and Heritage hour in the school house where Amy Iida Tervola Hultberg, dean of Salolampi: the Finnish language village which is a program of Concordia Language Villages will be exploring the langauge and heritage of the Finnish people.
The festival will end with the raffle drawing at 4 p.m. Raffle tickets are $2 a piece and can be bought from board members and at the store up until the drawing.