Waterski clinic held on Big Pine Lake
News | Published on August 16, 2022 at 5:20pm GMT+0000 | Author: Chad Koenen
0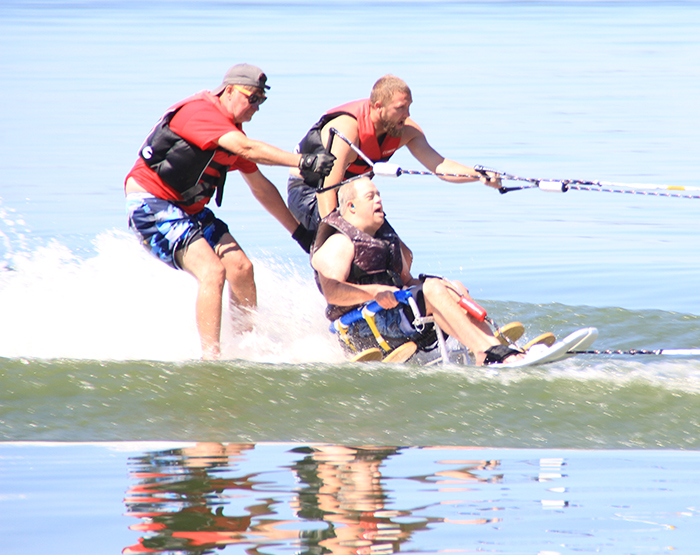 By Tucker Henderson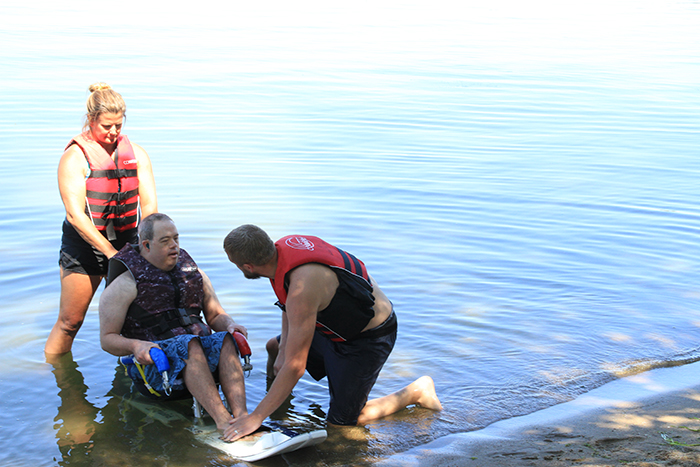 Reporter
Lake water flew skyward and waves raced towards the shore last week as Betsy Anderson Gilman held the first Big Pine Lake waterski clinic on Monday, Aug. 8.
Gilman has been skiing since she was five years old. In fact, her roots in the sport have held her close throughout the years.
"I learned right here on Big Pine Lake when I was five years old. In my late 20s, I began competing in barefoot waterski. I went to several world chapionships." 

Betsy Anderson Gilman
Through her love of waterskiing and especially barefoot waterskiing, she has decided to pass her knowledge on to others so they can also enjoy the summer pastime.
"I live in Juno Beach, Fla. in the winter and I have also held learn-to-ski clinics down there with the Hope Lake Ski Club, which is one of the ski clubs I belong to," said Gilman. "I was also a part of a veterans clinic in Tampa, Fla. this spring."
"The last three years, we have held clinics to teach kids and adults how to waterski. On July 7-8, we taught 41 kids to waterski over two days," said Gilman. "This was our first adaptive water ski. Our plan was to have a veterans clinic this year, but the two veterans that signed up were unable to make it."
This year gives Gilman a special ardor to share the sport and make it available to the masses. This summer marks the 100th anniversary of the invention of waterski which was in Lake City, Minn. in 1922.
"I actually held a learn-to-ski clinic on Lake Pepin on June 24, which is where water skiing was invented," explained Gilman. "I taught 23 people how to waterski on the very water where it was invented. It's a special year for waterski.
"My goal is to have all of the tubes off of the lake," she continued. "You can come waterski with me. I will take you waterskiing until you can't hold on to the rope anymore."
Gilman said that teaching the next generation of waterski enthusiasts is very important to her.
"It's really about passing on a sport that I love," she explained. "I don't have children, so this is a way that I can pass it on."
Gilman came from a career of journalism and most recently worked for CNN as a Senior Producer. She said that her basis in journalism actually came from NY Mills.
"My first job in journalism was at the New York Mills Herald. I still remember my first story: I took a picture of Einar Saarela's potato which looked like Richard Nixon," she said with a laugh. "I grew up in the area. I taught swimming lessons for the NY Mills School.
"I graduated from high school in Moorhead, but I spent all of my summers and weekends here," said Gilman.
Gilman's parents are both from Wadena, so she has called this area home in one form or another all of her life.
"I actually have my grandfather's cabin that he built in 1937 here on Big Pine Lake," she said.
From her front lawn, you could watch the whole clinic as she taught each enthusiastic learner to waterski.
Now that this year's clinic was such a success, Gilman said that it will "absolutely" become an annual event.
"Since we brought in Bob and Diane Casper from the East Coast to train all of us volunteers," she said. "Our plan for next year is to have a program where people can nominate their favorite veterans to participate."
She stressed that it is open to all wounded veterans, with no worry as to severity or types of injuries. She wants everyone to be able to learn and share the sport she loves.
"Learning to ski and sharing the love of the water is very important to me," she said.