Fort Juelson Park is listed on National Register of Historic Places
News | Published on August 23, 2022 at 4:41pm GMT+0000 | Author: Chad Koenen
0
OT County park is located near Underwood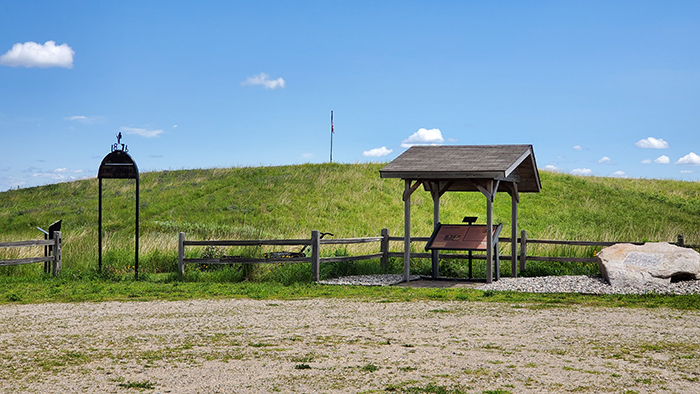 Many people are familiar with Otter Tail County's Phelps Mill Park, but have you visited Fort Juelson Park? Fort Juelson is a county park located two miles east of Underwood in Tordenskjold Township. The historic site was acquired by Otter Tail County in 2011 and is dedicated to the people of the county.
The site offers eight acres of native prairie with a bounty of wildflowers and grasses. Much of the land has remained natural without being tilled or planted for crops. Visitors may walk the trails and enjoy the scenic view. Benches are placed along the trail for hikers to rest and reflect on the beautiful setting. Interpretive signs are located at the site and there is ample parking for visitors.
Kevin Fellbaum, Otter Tail County Parks and Trails Director, encourages visitors to visit the site.
"Fort Juelson is a special place in Otter Tail County," he said. "As part of the park and trails system in the County, I highly recommend people visit the site and take in the natural beauty of the historic place."
The site is listed on the National Register of Historic Places.
The Otter Tail County Historical Society Museum, located in Fergus Falls, has a permanent display in the museum where visitors can learn more about the history of Fort Juelson. Clifford Knutson, author of Fort Juelson and the Indian Scare of 1876 and member of the Friends of Fort Juelson encourages locals and visitors to visit the fort.
"The book offers a good opportunity to learn the early history of this area," he said. "Many individuals and organizations have contributed to the preservation of this historic site."
The Friends of Fort Juelson collaborate with Otter Tail County Historical Society to preserve, interpret, and enhance the site. Members have donated the flags that fly over the site. The group is open to anyone interested in the preservation of the site. For information on becoming a member of the group contact the Otter Tail County Historical Society at 218-736-6038.
The park is open to the public daily from 6 a.m. to 10 p.m., April 30 through November 1.
To learn more about the history of the fort and Otter Tail County visit the Otter Tail County Historical Society at 1110 West Lincoln Avenue in Fergus Falls. (otchs.org)
For more information about the parks and trails of Otter Tail County visit ottertailcountymn.us/parks-and-trails/