NYM Library usage makes a big rebound
News | Published on August 23, 2022 at 6:41pm GMT+0000 | Author: Chad Koenen
0
Local library organized in 1933 by the Women's Club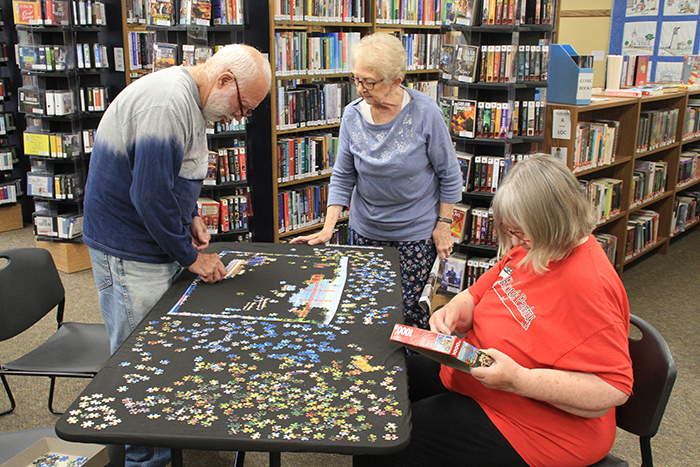 Tucker Henderson
Reporter
The New York Mills Public Library has been a staple of community life from almost 90 years. Organized in 1933 by the Woman's Club, the library started out as a totally volunteer-run library in the vacant fire hall at the time.
Now, almost nine decades later, the library has its own building, dedicated staff, and loyal patrons. Despite misconceptions that all libraries are dying, the NY Mills Library thrives contrarily to that modern-day myth.
In fact, attendance records have rebounded to pre-pandemic numbers this summer. On August 2, visitors totaled 105 people, returning patronage amounts to what was often seen before March of 2020.
The library offers a large assortment of materials including books, audio books, story-kits, magazines, DVDs and Blu-Rays, E-books all available for checkout. A small reference library for local history and high school yearbooks are also available for use within the library. Computers and free WiFi are also available for use in the library.
The interlibrary loan system also assists patrons who would like to check out something offered by the Viking Library System, but may not be at the NY Mills Library. Library staff can request the material from a member library and it can be sent to NY Mills and reserved for that patron.
All that is needed to make use of these offerings is a library card, which is issued free of charge. Basic information and an ID are required. Minors can also obtain a library card for their personal use. Staff members are always eager to share the opportunity that a library card gives to its bearer and the world of wonder that awaits within the library's walls.
Another resource that the library offers is a new take on their annual book sale. Donations are accepted year-round on books in good condition and are available for purchase for $1 an item. As the annual two-day event took a lot of hauling many heavy totes of books to the City Hall each year, a simpler and more widely available option has taken its place in the back of the library's meeting room.
The library meeting room is also available for events for library sponsored programs and meetings as well as organizations of a non-profit, public service, or education nature. Religious and fraternal groups will also be considered on a case-by-case basis by library staff. For-profit groups may also use the facility for education purposes, but a donation will be requested.
The library board meets on the third Wednesday of each month at 4:30 p.m. and all meetings are open to the public. The Friends of the Library is another organization that assists with fundraising and advocacy of the library. They meet twice a year and everyone is invited to join. For information on either group or other library information, feel free to call or stop in and ask a library staff member during the week.
Local programming is also an asset of the community provided by the library throughout the year. Programs pertaining to local history, culture, entertainment, learning, youth education, and other topics are sprinkled throughout the library's calendar and are often free-of-charge.
All community members are welcomed to visit the library and handicap parking available in the parking lot behind the library for those who may find it more difficult to do so. The three library staff members are always available for assistance, whether it's finding a book, or pre-registering for a local history program, they are there to help.
Julie Adams
Julie Adams has been working for the library for 29 years and currently serves as the director of the NY Mills Library. She enjoys spending time with her husband Brian, daughter Emily, and her dog Bo. She also enjoys reading, gardening, and photography in her spare time. Her time at the library has provided many good memories over the years.
"I enjoy when we get a large audience for our programs—the Okee Dokey Brothers was our largest one to date," she said.
Shelly Kassa
Shelly Kassa has worked for the library for eight years and takes great pleasure in many aspects of her job.
Her list of favorites at the library is long: "Being able to help patrons find materials, working with the kids in the summer reading program, preschool storytime, and Lego club," among others.
Her family consists of her husband Tony, daughter Ashley, and sons Nathan and Justin. In her spare time, she enjoys making cards, DIY crafts, reading, and fishing.
"My favorite memory is bringing my kids to the library and once upon a rreader program," she said.
Kendal Wurst
Although Kendal Wurst has only worked for the library for about a month now, the charms of a small-town library have already permeated her thoughts. She mentioned that she loved to visit with patrons and to be able to be around all of the books and products the library has to offer. Wurst's family consists of her daughters Harley and Daisy, along with her boyfriend Shawn and kids Hunter and Klaire. She loves to read and attend sporting events as well as working out. The library also holds a special nostalgia for her.
"Memories of bringing my girls here to check out books, Barbie movies, and Arthur movies," she said.