Eagles look to compete in a tough conference, section
Sports | Published on August 30, 2022 at 3:02pm GMT+0000 | Author: Chad Koenen
0
NYM to open Park Region Conference against Bertha-Hewitt on Sept. 8 in NYM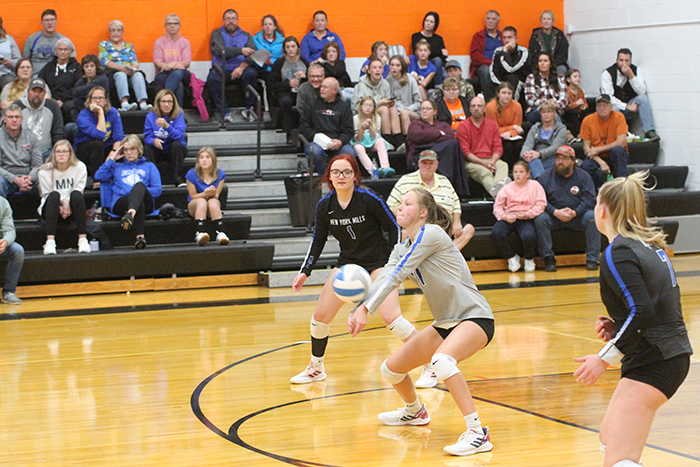 By Chad Koenen
Publisher
Playing in one of the best conferences in Class A and a perennially difficult Section 6A, the New York Mills Eagles will once again have a difficult path throughout the season.
After finishing with a record of 18-8 last season and a second place finish in the conference, the Eagles will look to follow the leadership of returning letter winners including seniors Kali Olson and Bella Bauck, as well as sophomores Ayla Olson and Alyana Baune this season.
In addition to the four returning letter winners, head coach Tammy Olson said juniors Grace Brasel and Olivia Smith, as well as senior Gabby Dykhoff are among the players who could have a big impact on the varsity level this season.
Olson said the Eagles have had a number of injuries on the court and will need to overcome those injuries and learn to play as a team in order to find success this season.
As far as goals for the season, Olson said the hope is that the team will get better at each practice and game throughout the year. While the Park Region Conference will once again be competitive this season, Olson said BBE will be among the top teams in the south half of the section.
In addition to Olson, volleyball coaches include: Harley Wurst, Ella Von Ruden, Annika Frost and Kenna Salo, as well as junior high coaches Hailey Windels and Bryan Olson.
The Eagles opened their season on Tuesday, Aug. 30 when they hosted Frazee in non-conference action. Next week the Eagles will travel to Park Christian on Tuesday night in another non-conference game, before hosting Bertha-Hewitt on Thursday, Sept. 8 in their Park Region Conference opener.