New teachers join staff at NYM School
News | Published on August 30, 2022 at 4:02pm GMT+0000 | Author: Chad Koenen
0
First day of school is set for Tuesday at New York Mills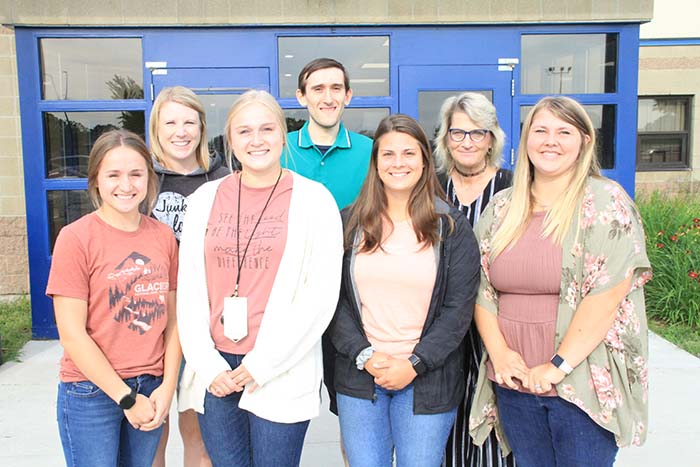 By Tucker Henderson
Reporter
As the beginning of the 2022-23 school year draws near, there are seven new teachers to the district in the New York Mills schools this year. Six of the new teachers will be starting in the elementary school, while the seventh joins the high school.
Kenna Salo
Kenna Salo is returning to NY Mills to teach where she once walked the halls as a student. She went on to the University of Jamestown to pursue a Bachelor of Arts degree after high school graduation. As a sixth grade teacher, she will be seeing the other side of the teacher's desk as she starts the school year. Salo remembers her favorite memory of her time as a student in NY Mills: winning State two years in a row in softball.
Salo is looking forward to "working with a great group of people and coaching volleyball and softball," in her inaugural year as a teacher. In her off time, she enjoys hunting, fishing, hiking, and playing cards with her grandma.
Justice Kunza
Although techincally a new teacher this year, Justice Kunza is returning this school year as a full-time teacher. Last spring, she student taught for Teri Bauck's class as she finished up her B.S. in Elementary Education from Walden University. A local graduate of Frazee High School, Kunza will be teaching Special Education for third and fourth grade.
A favorite memory of her school years was when her class went to "Hawaii" and also when they were given the opportunity to hatch baby chicks in first grade. Drawing, painting, and reading fills her down time. Kunza said she is looking forward to "getting to know the staff and students," at NYM elementary.
Gini Olson
Gini Olson graduted from Staples High School and then went on to both Bemidji State University as well as St. Cloud State Unversity. She will be teaching fifth and sixth grade Special Education this year. She looks forward to seeing new faces this year.
"Another great year meeting my students and families," she said of what she's looking forward to.
Olson enjoys crocheting, hunting, and fishing in her free time. She also remembers hatching baby chicks while she was a student and holds that memory as one of her favorite.
Jennifer Woods
Third grade students will gain a new teacher this year with Jennifer Woods. She graduated from GFW High School in southern Minnesota and then went on to attain her degree in Elementary Inclusive Education at Minnesota State Unversity in Moorhead. Community life is an important aspect of teaching to her, including coaching.
"Meeting my students and their families, as well as getting involved in the community," she said of what she is most looking forward to. "I love to read, go to the lake, and playing with my pups."
In high school, she fondly remembers breaking the school record in the 200 meter dash.
Danielle Grieger
Danielle Grieger is a graduate of Campbell-Tintah School and also Minnesota State Unversity in Moorhead for her Bachelor's Degree in Elementary Education Emphasis in Preprimary. She will be taking on the role of kindergarten teacher this year and is looking forward to "meeting all the kids and families," as well as "working with my kindergarten team."
In her available free time, Grieger likes to craft, travel, hunt, and fish. A memory of her school years involves playing football at recess with the fourth grade teacher.
Elyssa Blaha
While first graders return to school this fall, a new first grade teacher, Elyssa Blaha, will be joining them as well.
Blaha is a graduate of Verndale High School and also attended Minnesota State University in Moorhead for her degree in Early Childhood Education. She is especially looking forward to seeing her kindergarten daughter throughout the day among other things. She enjoys spending time with family, crafting, hunting, and fishing.
Memories of Junie B. Jones books being read to her in second grade come up when thinking about favorite school memories for Blaha.
William Schmieg
William Schmieg attended Central High School, Norwood-Young America School, as well as Bemidji State University. He will be teaching science this year and is the only new teacher in the high school this coming fall.
"I am looking forward to meeting all of my students," he said.
He enjoys running, fishing, and playing video games. A favorite school memory was learning about animals in biology class.