State fair features newspaper history
News | Published on August 30, 2022 at 3:49pm GMT+0000 | Author: Chad Koenen
0
Letterpress equipment dates back to the 1930s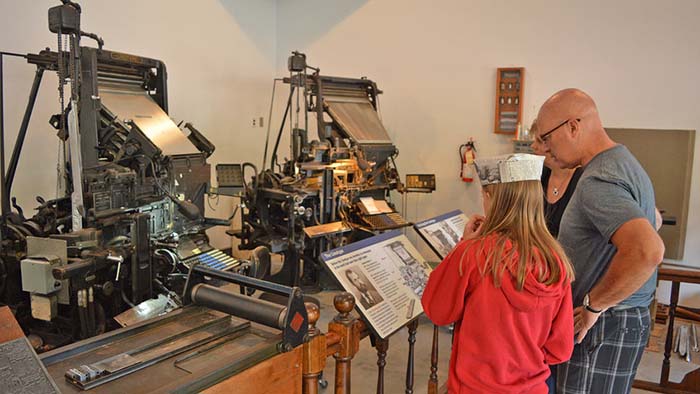 By Tom Hintgen
Otter Tail County Correspondent
This is the ninth year of the Minnesota Newspaper Museum hosting visitors at the state fair in its new home. The museum is now located adjacent to the 4-H building in the northeast section of the fairgrounds.
From 1987 to 2013 the newspaper museum was located at Heritage Square, just north of the midway. That area is now used by the state fair's West End Market.
This year, as in previous years, the newspaper museum is expected to attract thousands of visitors. Guests are able to see old-time newspaper veterans operate 1930s letterpress equipment.
Kids visiting the newspaper museum at the state fair this year with their parents will marvel at how the letterpress method in prior decades compares to the computerized world they live in, today.
Children and adults alike will leave the newspaper museum with mementos such as newspaper hats, souvenir newspapers printed during the state fair with use of linotypes and the like, drawings of old newspaper equipment, bookmarks and memo pads.
The editor's office is a main attraction at the Minnesota Newspaper Museum adjacent to the 4-H building.
Letterpress printing is experiencing a huge resurgence in popularity, according to newspaper museum volunteers. Fairgoers are encouraged to come and see how type is set for newspapers.
"We offer insight into the importance of Minnesota community newspapers," says Chad Koenen, president of the Minnesota Newspaper Association and publisher of newspapers in Henning, New York Mills and Frazee-Vergas.
"The newspaper museum also provides insight about the impact that newspapers have on their communities, along with highlighting the importance of freedom of the press."
The newspaper museum at the state fair is open from 9 a.m. to 8 p.m. each day of the state fair. Funding for the museum is provided by the Minnesota Newspaper Foundation.