Ten letter winners return to NYM line up
News | Published on August 30, 2022 at 3:13pm GMT+0000 | Author: Chad Koenen
0
NYM to host WHA in home opener on September 9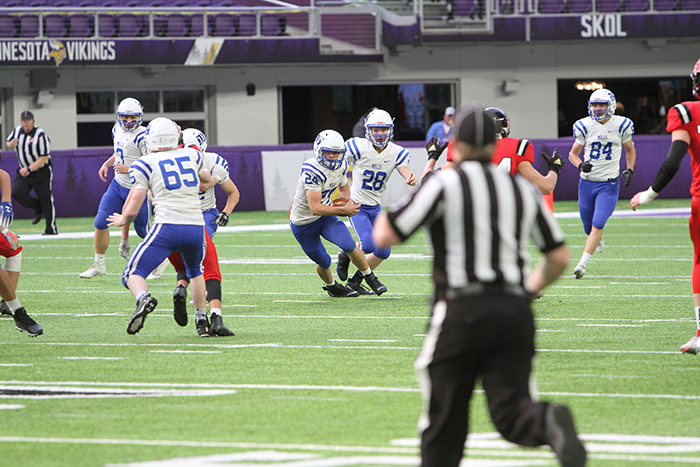 By Chad Koenen
Publisher
A new-look New York Mills football team will take the field for the first time on Thursday night when the Eagles travel to Red Lake. It will be the first time the Eagles will take the field since advancing to the semi-finals of the state football tournament for the first time.
After graduating a bevy of seniors from last year's team, the Eagles will need to turn to a number of underclassmen and seniors in new roles as they get ready for the upcoming season.
"We are looking forward to the upcoming year," said head coach Matt Radniecki. "We have some key spots to fill, but we feel that we have the right amount of experience coming back to help us have success for the future. This team is ready to develop their own identity and get after and have a good year. It is going to be exciting to see them get their chance to shine. They are working hard and getting after it."
This season the Eagles will be led by returning letter winners: seniors: Brayden Ehnert, Jon Rinerson, Will Oakes, Jonah Ruther, Monte Briard, Nathan Fischer, Isaac Page and Braden Partlow; and juniors: Sam Kopveiler and Bode Roberts.
Radniecki said the Eagles are also looking for big things this season from DaShaun Robinson, Teegan Lausten, Hunter Holtti, Carter Hudalla, Rowland Dykoff and some sophomores who are eager to contribute to the team.
Last season NY Mills captured both the district and section championship and finished with a record of 10-2. This season Radniecki said Pine River-Backus will be among the teams to watch as they have some key returning letter winners from last season's team. He also said Wadena-Deer Creek has turned their program around and will be a tough team this season.
In addition to Radniecki, the Eagles will be led by assistant coaches Eric Niemi, Peder Butenhoff and Bryan Dunrud.
NY Mills will host Walker-Hackensack-Akeley on Friday, Sept. 9 in their home opener.