Eagles edge Bears 3-0 in PRC opener
Sports | Published on September 13, 2022 at 3:05pm GMT+0000 | Author: Chad Koenen
0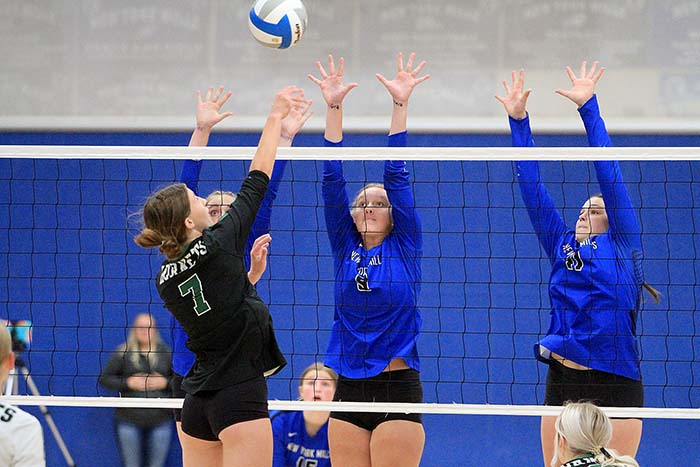 By Chad Koenen
Publisher
New York Mills got its Park Region Conference schedule underway with a big 3-0 sweep over Bertha-Hewitt on Thursday night.
The Eagles wasted little time in jumping all over the Bears as they won the first game by a score of 25-14, before coming away with wins of 25-15 and 25-13 to complete the three game sweep.
Kali Olson and Grace Brasel had big games at the net for the Eagles as they finished with 23 and 14 kills respectively, while Bella Bauck chipped in with 8 kills of her own.
Ayla Olson led the way with 3 ace serves on a perfect 26-26 serving, as well as led the team with 25 assists.
In addition to opening their conference season, the Eagles fell to Park Christian in non-conference action by a score of 3-1 and finished with a 2-2 record at the Browerville Tournament. The Eagles lost their first two matches of the day by a score of 25-18, 25-23 to Brandon-Evansville and 25-23, 25-18 to Browerville, before defeating Verndale 25-22, 26-24 and LP-GE 25-14, 25-21 to end their tournament.
The Eagles are currently 4-3 overall and 1-0 in the conference as they will host Lake Park-Audubon in non-conference action on Tuesday, before head to Verndale on Thursday for their second conference game of the season.
SERVING- Annika Dunrud 2-2, Kaylee Meech 24-25, Grace Brasel 9-10, Ayla Olson 26-26 (3 ace), Olivia Smith 12-13, Kailey Keskitalo 10-11 (2 ace), Kali Olson 11-13, Jada Newborg 11-11 (1 ace), Bella Bauck 23-23 (2)
KILLS- Annika Dunrud 1, Kaylee Meech 1, Grace Brasel 3, Ayla Olson 14, Olivia Smith 1, Kailey Keskitalo 6, Kali Olson 23, Jada Newborg 1, Bella Bauck 8
BLOCKS- Grace Brasel 1, Ayla Olson 1, Kailey Keskitalo 3, Kali Olson 4, Bella Bauck 2
ASSISTS- Annika Dunrud 2, Ayla Olson 25, Olivia Smith 1, Kailey Keskitalo 4, Kali Olson 22
DIGS- Kaylee Meech 16, Grace Brasel 9, Ayla Olson 13, Olivia Smith 3, Kailey Keskitalo 2, Kali Olson 12, Jada Newborg 8, Bella Bauck 23