Ottertail artists featured in new M-State exhibit
News | Published on September 20, 2022 at 3:56pm GMT+0000 | Author: Chad Koenen
0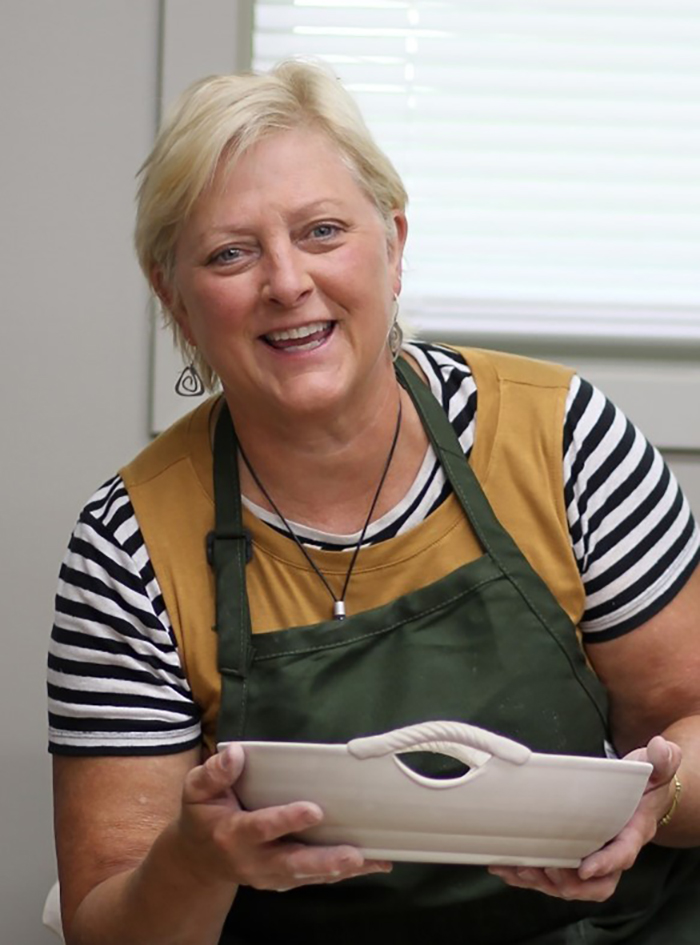 Mother-daughter Ottertail artists Shirlee Aho Daulton and Sandra Daulton Shaughnessy have joined creative forces for a shared exhibition at M-State's Waage Gallery, on the Fergus Falls campus, on display now through October 27.
"Shared Affinity, Distinctive Paths" is the pair's first shared exhibit at M-State, though over the years the two have shown their works both together and separately at numerous events and venues throughout the country.
Aho Daulton is known around the local area for her eclectic summer art studio and gallery on Rush Lake, The Arthouse, which she opened in 1986. Using natural materials found around her Ottertail cabin, as well as her winter home in Arizona, she creates handmade paper, prints, wood cuts, paintings, baskets, fiber art, jewelry and more.
By contrast, her daughter, Daulton Shaughnessy, specializes in one artform: soda fired pottery. She runs her own private art studio, Clayhouse Pottery, just down the road from her mother during the summertime, and lives and works in the Minneapolis area during the rest of the year.
The pair's similarities and differences as artists are the inspiration behind "Shared Affinity, Distinctive Paths." Daulton Shaughnessy said that she and her mother are both lifelong artists who share a passion to create, but their approaches to art, and the works they make, are quite distinct.
"We're both driven by our art and our desire to create art," she said. "But we work very differently. We have very distinct voices. When you see our work side-by-side, you know right away which pieces are hers and which are mine."
"I'm a potter and I work in series of pieces that might be related—like sets of things," she adds. "My mother, her pieces are more individual, more one-of-a-kind."
"We have joked that Shirlee could make something creative out of oatmeal, because she just oozes ideas and has a real knack for seeing the good in things," said Lori Charest, a ceramics instructor and art collection curator at M-State who has known Aho Daulton and Daulton Shaughnessy for years. "And Sandra is an excellent potter; she's really good at what she does. They're both just really creative people."
Aho Daulton, who "is 92 and you wouldn't know it," according to her daughter, has a background in nursing and studied art at Iowa State University. Daulton Shaughnessy studied at the University of Northern Iowa, University of New Mexico, and Eastern Michigan University and has a Master of Fine Arts degree in ceramics.
The Waage Gallery is open to the public from 8 a.m. to 5 p.m. Monday through Friday. A public reception with the artists will be held in Legacy Hall on Thursday, Oct. 6 from 1-3 p.m. It will be a shared reception with another exhibition hosted by M-State's Fergus Falls campus Sept. 12 to Oct. 27, "Inspirations 22," in the Charles Beck Gallery.