Classmates find unique places to meet in OTC
News | Published on September 27, 2022 at 3:41pm GMT+0000 | Author: Chad Koenen
0
High school classmates catch up at a restaurant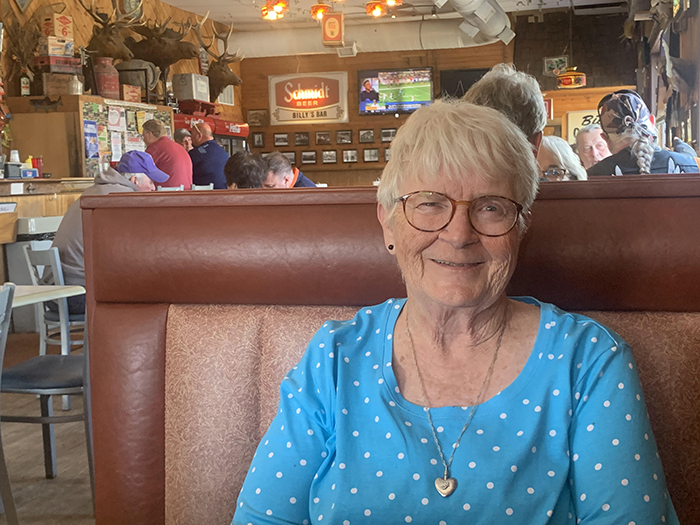 By Tom Hintgen
Otter Tail County Correspondent
Vergas, a community close to the county line between Otter Tail County and Becker County, was the perfect place to meet for high school class reunion committee members Tom Hintgen of Fergus Falls and Vicki Engen Heydt who lives northeast of Frazee, at South Twin Lake.
The former classmates, members of the Fergus Falls High School Class of 1966, had lunch together on Monday, Sept. 19, at Billy's Corner Bar & Grill in Vergas.
"Vicki has done a great job as our go-to person when we are trying to track down addresses of classmates who have moved, as well as tracking down emails," says FFHS Class of 1966 reunion chairperson JoAnne Hoff Collins, now a resident of the Twin Cities.
Heydt also compiles directories for classmates after reunions, with updated addresses, emails and phone numbers.
While many members of the Class of 1966 have moved to far-away places from their hometowns, Hintgen and Heydt have appreciated living close to home, in Otter Tail County and Becker County, respectively.
"My husband, Jon, and I have lived at South Twin Lake since 1997, when we built our home at the lake northeast of Frazee," Vicki said. "We love this area of west central Minnesota."
She formerly worked at Osco Drug-Buttrey Foods in Moorhead, was Fargo Channel 11 TV office manager, and then worked for the Federal Aviation Administration (FAA).
Her husband, Jon, a native of Crookston, worked as an IRS investigator in Fargo and Grand Forks. The couple lived in Grand Forks before their move to South Twin Lake 25 years ago.
Vicki, along with her volunteerism with the FFHS Class of 1966, is an active member of Immanuel Lutheran Church of Shell Lake in Becker County and has also volunteered with the Food Bank.
Their son, Jason, teaches and coaches in Grand Forks. Daughter Jennifer is a human resources employee for the state of West Virginia.
Hintgen, as readers note at the top of this story, remains as part-time newspaper correspondent for area weekly newspapers. His wife, Sharon, is a retired math teacher. Son Mark lives in Fergus Falls and son Paul resides in Toyko, Japan.