Eagles tame Tigers 12-0 in a battle of unbeaten teams
Sports | Published on September 27, 2022 at 3:01pm GMT+0000 | Author: Chad Koenen
0
NYM is now 4-0 on season, to travel to Bagley on Friday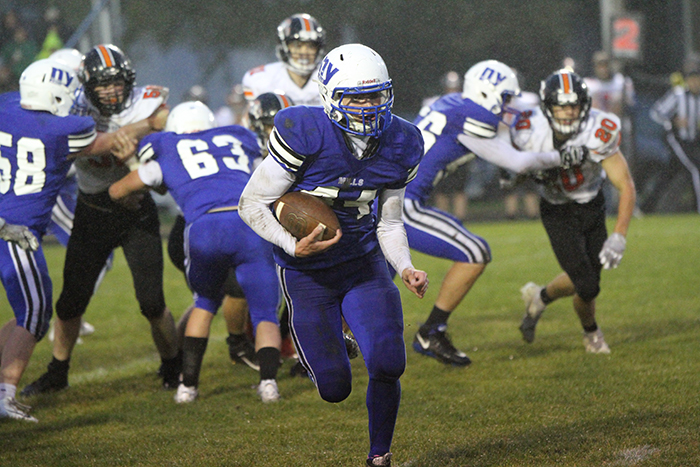 By Chad Koenen
Publisher
Since the start of the 2021 season, the only team who has been able to defeat the Pine River-Backus Tigers has been New York Mills. Last season the Eagles defeated PRB twice, including in the Section 6A playoffs. By comparison, the Tigers are 11-0 against every other team they have played over the past two years.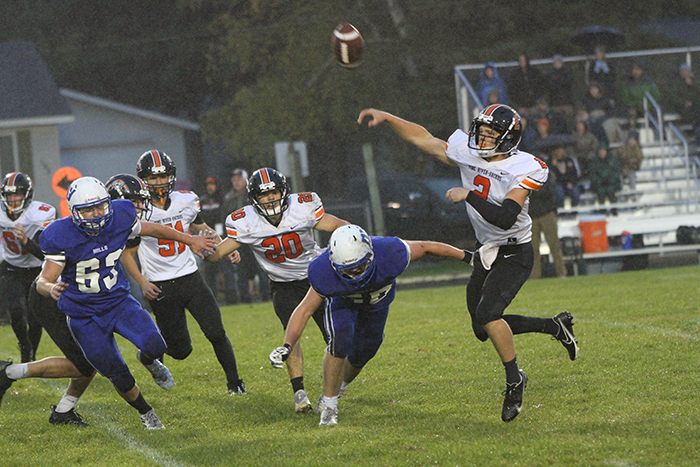 In what turned out to be a defensive struggle in a wet and cold game, with both teams making several deep drives into their opponents territory, the fifth ranked Eagles defeated the Tigers once again by a score of 12-0.
"A very good game for us against a tough opponent. PRB is tough and physical and play good fundamental football," said head coach Matt Radniecki. "I was really proud of how our team battled and battled and it was nice to see us make a few big plays toward the end to get the win. This victory is big for us in section seedings and it was fun to get the victory on parent's night in front of the crowd."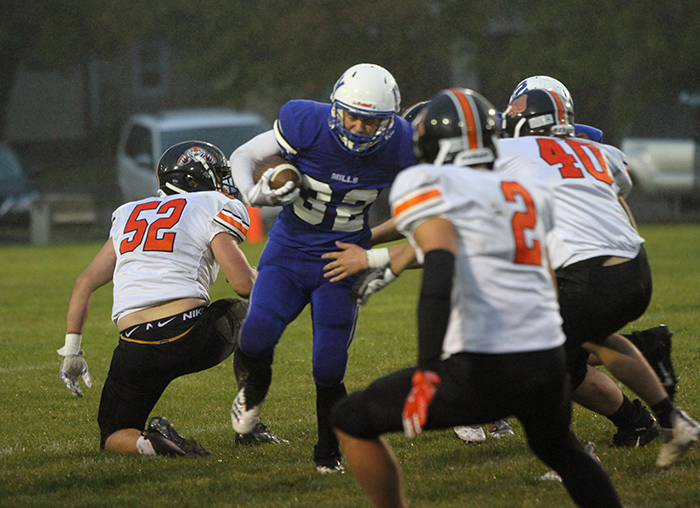 After a scoreless first half, in which both teams were able to drive down the field, but stalled deep in their opponents territory, the Eagles got on the scoreboard for the first time in the third quarter when Brayden Ehnert hit Finn Roder on a 63-yard pass. Throughout much of the first half the Eagles were able to find a good mixture of long passes and tough runs to work the ball down the field.
"On offense we were able to run the ball, but stalled a couple times in the red zone," said Radniecki. "Brayden Ehnert connected with Finn Roder on a 63-yard pass for a touchdown that got us on the board first and gave us some confidence heading into the fourth quarter."
The Eagles got a bit of breathing room in the fourth quarter when Monte Briard found the end zone on a 2-yard run to leave the score at 12-0. NY Mills' defense continued to make big plays when needed to keep the high powered Tigers offense off the scoreboard and come away with their third straight win against PRB.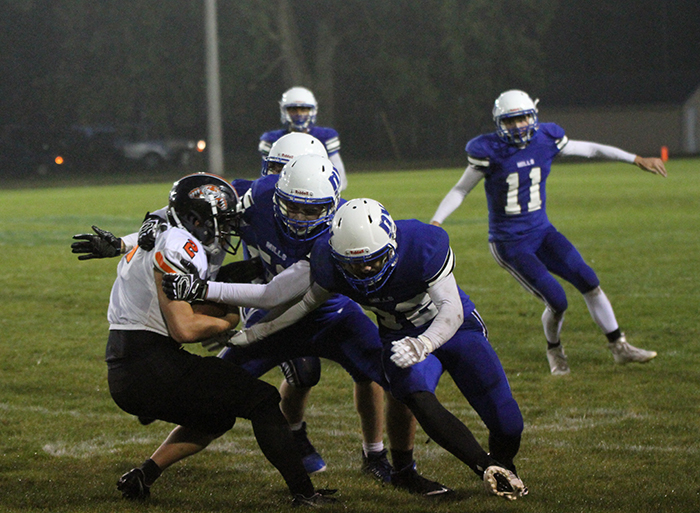 "We had some guys step up on offense and defense when needed. Our defense played outstanding last night in not allowing the big play to PRB," said Radniecki. "We tackled for the most part really well and Jonah Ruther came up with a big interception in the end zone to end a threat for PRB in the third quarter."
Defensively the Eagles were led by Blake Unger with 10 tackles, while Will Oakes finished with 8 tackles.
This week the Eagles will travel to Bagley to take on the Flyers. Last week Bagley lost to Polk County West by a score of 42-26. They have also lost to Menahga by a score of 48-26 and Pine River-Backus by a score of 26-0.